Welcome to the Front Porch. Here you will find talk about what is going on with WKO and any success we've had. We use only recent photos and references from our hunts. This gives our clients an up-to-date, honest report. Check back daily, because like the seasons it will change.
---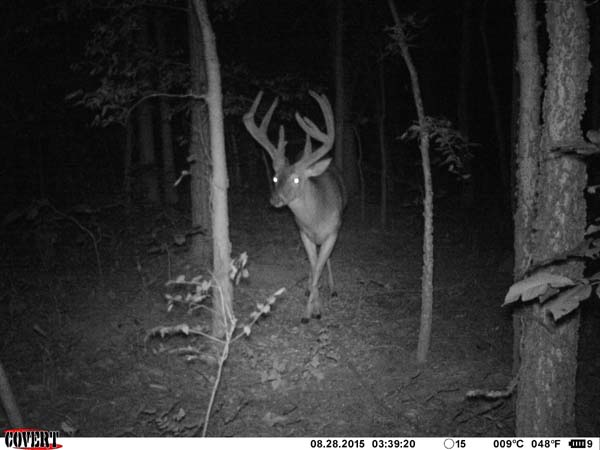 ---
TODAY's News from the Porch:
Update: 10.4.15- We thought it was time to jump into the month of October. We've not ran any hunts the last couple of weeks. Mostly due to avoiding the full moon and what can be some slow hunting. Outside of 1 day, we've been dry the last 45 days. Corn fields continue to get cut and some of the bean fields are beginning to disappear to combines as well. This past bow hunt seen good activity with a couple hunters getting busted by either wind or while drawing. Certainly aggravating for all.
Next up we'll be entertaining youth hunters for the Youth weekend rifle season. It's always a hunt we enjoy and look forward to.
We're starting to see a few bucks start to push around on one another and creating some space. We've seen several boundry scrapes pop up in the last week and a few licking branches on community scrapes are beginning to take on more visits during darkness. After a couple cool mornings in the 40's, we're heading back into the 80's for a few days but by the weekend should see some temps back in the 40's at night for the youth hunts.
What to expect during your hunt ---> HOW OUR HUNTS TAKE PLACE.
9.21.15 - I know several of you have asked about the opening hunts. We've run 2 hunt groups during the first 10 days of the season. We did not schedule any others the last half of the month. The opening hunt seen 2 does and a nice 8pt killed, while a doe also went unrecovered. Deer movement was pretty good and 2 of our hunters passed on a few bucks that I think they regretted. We also had one doe kill that spooked off a buck the hunter did not realize was there. The second hunt slowed down a bit with bucks out of velvet and food sources changing over as corn fields were being cut and acorns dropping. An abundance of food make it difficult on the bigger bucks being in range. A doe was harvested on the second hunt and another one also went unrecovered.
For upcoming hunts/hunters, do NOT. I repeat do NOT purchase a 5 or 7 day hunting license. They are NOT valid for deer hunting. You will be illegal if you do and will cost you in the long run. You must purchase a Non-resident annual hunting licenses. Between the hunting license and deer permit you will spend approximately $260. I cannot emphasize this enough. If you buy over the counter do not let a person at Walmart sell you otherwise.
We'll have more updates to the Front Porch next week.
9.4.15 - In the last 24 hours we've seen 1 buck out of velvet and he's been the only one all week, so most should be sporting it for those wanting to take one in velvet. The order of the opening days will be hot, muggy, mosquitos and ticks. Some patterns are beginning to shift but we feel it's mostly due to the full moon and now coming off of it. We've found a couple of acorn trees beginning to drop but the main focus continues to be bean fields, plots and corn piles. We did start seeing some activity in and out of a couple standing corn fields earlier in the week but cannot test if it was feeding activity or cover. In the last 2 days we have began to see a few corn fields cut in our counties but nothing close or none on us as of this writing.
We still expect the better buck movement to be at or just after first light on the upcoming hunts in the mornings. Afternoon hunts could produce at 4pm and the waning minutes of daylight with movement we've seen over the last 3 days. One day a buck will show and feed heavily at 4:45. The next evening he doesn't show until right at dark.
Check back next week for a hunt recap and a look ahead to the next hunt.
9.3.15 - We are less than 48 hours from the Archery opener. Summer patterns, bachelor groups and the one time of year when bucks have not been pressured. The forecast will be hot as we reach into the mid-90's all weekend. Coming off the fully moon earlier in the week and based on scouting we expect movement to come mostly late in the day and around first light and shortly afterwards. We are updating some trail cam pics over the next couple of days. Once season open we will continue to provide cam pics but they may be less frequent. Check back next week for an update on the opening hunts.
What to expect during your hunt ---> HOW OUR HUNTS TAKE PLACE.
If you are in the market for a great sounding, and good looking, custom turkey call give Dave Hawksford consideration. You can find him online at http://www.morningsunturkeycalls.com/.
---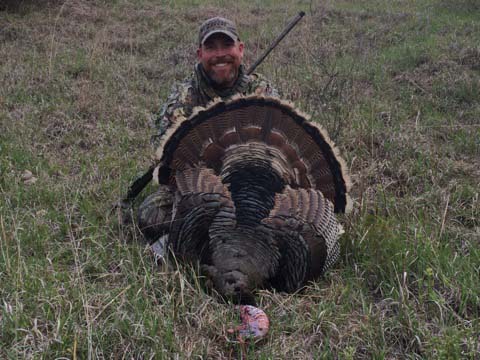 ---
We run cams 365 days per year.
---
If you are looking for help to hunt or fish in Kentucky drop us a line and see what we can put together for you. Good Hunting! wkohunts@gmail.com