Welcome to the Front Porch. Here you will find talk about what is going on with WKO and any success we've had. We use only recent photos and references from our hunts. This gives our clients an up-to-date, honest report. Check back daily, because like the seasons it will change.
---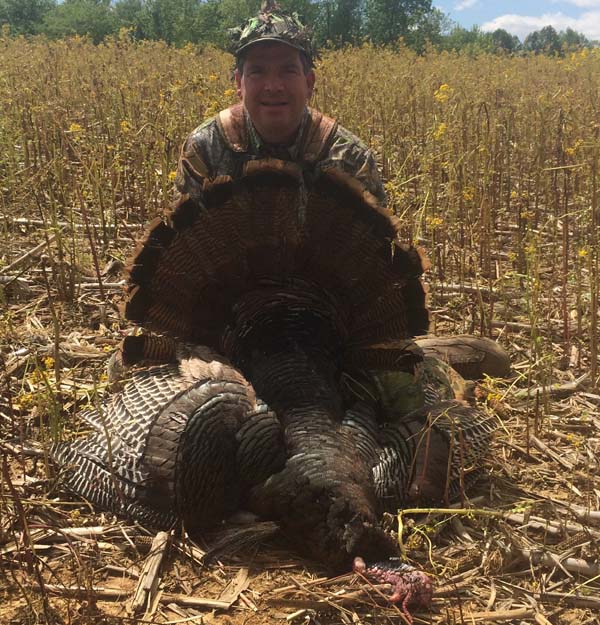 ---

Update: 5.9.17 - I would like to Thank Everyone who hunted with us this year and made this such a successful Spring!
We wrapped up the 2017 Spring turkey season here in Kentucky with a successful hunt to close out the season with 100 percent success. The 2 day hunt was one of our more challenging hunts following 3 straight days of wind and rain. There would be no opportunity on Saturday after a couple birds gobbled early from roost. A mid afternoon gobbler some how slipped around us with a good wind and rain showers having popped up mid afternoon. We closed out the hunt by roosting a few birds not knowing what they were. On Sunday birds gobbled good and often where we started out. It seemed like one rookie mistake after another was doing us in. Even though most was typical turkey hunting, birds being closer than it sounded. Calling and not allowing time for a bird that went silent to show up. Slipping around trying to get a shock gobble and running into a bird that was well on his way right to you.
At that point I was like, 3 strikes, we're out. We relocated to another farm where after walking 150 yards from the trucking and some cutting on a mouth call, we spotted 3 gobblers moving to us. Grabbing our gear we relocated for a setup, but the birds had moved off, gobbling from another woodlot. A quick move and we were in business. Only the birds went silent and now we had a bird gobbling from the spot we just had left calling from. We quickly pulled up and changed our setup moving around 150 yards putting us 125-150 yards from the bird. The bird gobbled at a few calls and we shut up. He also went silent. After a short while, I called, no answer. Hunter called, no answer. We kept put. Within about 10 minutes I caught the bird coming over a saddle in the field in half strut. I called to say 'here I am', he gobbled and went into half strut and came over the hill, turned and began feeding. Scratching in the leaves he went into half strut and looked our way. In the end he either seen something he did not like, realized 'there's no hen there', or seen movement. He turned and started back up the hill. It was now or never and told the hunter if he was going to shoot he needed to shoot. The bird dropped on BOOM! He tried making it to his feet while flopping about so a follow up shot was needed to finish him off.
We have hunts being booked for the 2018 Spring turkey season now. Based on past tradition, the 2018 Spring turkey season should be set to open Saturday, April 14th. If you would like to hunt turkey with us next Spring, call or send us an email with the Subject line of 2018 Spring Turkey.
What to expect during your hunt ---> HOW OUR HUNTS TAKE PLACE.
If you are looking for a custom call this spring, give these calls a look. They are great sounding, and good looking, custom turkey calls. I've owned them for a couple years now and have put both Spring and Fall gobblers down with them. Give Dave Hawksford consideration if you are in the market for a custom turkey call. You can find him online at http://www.morningsunturkeycalls.com/.
If you are interested in hunting deer in Kentucky, below is a list of currently available deer hunts for this fall. In most cases we can setup any length of hunt, as well as, different hunt dates than listed if you the dates listed do not work for you. Email or give us a call to inquire.
Sept 15-16-17-18 : Early Archery Hunt
Oct-1-2-3-4: Archery or Crossbow Opener
Oct 14-15 Youth Rifle
Oct 27-28-29-30-31 Archery Pre Rut
November Rifle - 11-12-13 - 1 Opening
November Rifle - 16-17-18-19
December Muzzleloader - 9-10-11-12 - 4 Openings (3 or 4 days)
December Muzzleloader - 14-15-16-17 - 2 Openings (3 or 4 days)
5.2.17 - So far it's been a great Spring despite some challenging weather that seems to occur every other day we step out the door to take chase after birds. Our last hunt we got it done on day 2 of the 3 day hunt on a vocal bird that gobbled well on the limb. He hit the ground went silent for us to have a 2nd bird fire up to our right within 70-80 yards. He stayed hot but held his position. Going silent and some leaf scratching done him in and Carl sealed the deal at around 45 yards on a good bird.
Weather, in rain and water has dominated the last week of hunting. Not to mention some wind. Its made some of the morning hunts start quiet and taken a while for some of the birds to get hot. Other mornings we've found some vocal birds and worked them off the limb to the gun, closing the deal and a couple living to be hunted another day.
We'll wrap up the final 5 days of season with rain in the forecast 3 of the 5 days. Cooler temps have hung around as has the wind. We hope to finish the season here in Kentucky at 100%, but turkey being turkey, it can be something different every day. Thus the reason most everyone loves to hunt them, the Challenge.
4.26.17 - We've continued the current Spring streak with another bird down. A great morning of gobbling on 4/25 that led up into mid morning. Aggressive calling out of a combination of a diaphram and slate seemed to be the key and ticket to get the birds to commit and produced non-stop gobbling while they closed the 400 yards or so to gun. Some leaf scratching mixed in once the birds were under 45 yards helped.
We have some weather in the forecast that may produce some unfavorable conditions and a lot of rain between Thursday and Monday. We've killed a lot of birds in rain, including some heavy storms, but storms and wind always make for a tough hunt. If you have turkey hunted long enough though, you know those breaks in rain and some lapse in wind can make for a great time to get after a bird or get one fired up. Rubber boots and wet suits may be the key to success on our upcoming hunt.
4.24.17 - We closed the book on another successful hunt over the weekend. A fairly quick hunt on Saturday morning put a bird down at 6:44. After 9 hens had flown down and 2 gobblers in the field with them, another one gobbling his head off from the timber and a fourth had gobbled to our north a couple times, we had a couple of toms run into our decoy set and beat up on the jake. This caught the attention of the boss tom with the hens who went into strut and started closing the 80-90 yard gap we had. The action at the decoy was just to much by the dancing duo and once we had one clear and his head up from some calling, the load of shot hammered him to the ground. Rain and wind dominated the morning. It briefly let up then continued for most of the day. During mid day we found a bird in a field and after some cuts got his attention, he was on his way. He stopped a couple of times to scope out the situation, but some clucks and purrs kept him on a rope. It took a total of 3-4 minutes for him to cover 175-200 yards and he to went down for the count.
Cool temps prevailed with lows in the 40's both Saturday and Sunday. Sunday was a bit rougher with a low of 42 at dawn with some wind, which we seen hit 25mph at times and rained off and on. There was some light roost gobbling, but very few birds. No hen talk and little activity seen.
At this time we are 100% for the season. So far our biggest factor has been changes in weather. We've dealt with a few henned up birds, but that is beginning to take care of itself as hens are starting to sit more and more leaving the toms to themselves later in the morning and afternoons. We'll see if we can continue our streak this week. We'll try to provide some updates daily if time allows. Good luck if you are hunting!
4.20.17 - The gobble was back on this morning. Several birds gobbled well into mid morning. The plan put into play did not work out off the roost, as the birds did a 180 from Wednesday and were not playing well with others.
For our deer hunters, it was a mild winter to say the least. Probably one of the warmest winters on record and I believe we had the least amount of snow on record than any year recorded in modern times, 0.7", which means the deer did not have to go through any lean times with food sources. With adequate rain and early warming trends, vegetation has gotten off to a good start, as has food plots. Local agriculture has been working the fields for a few weeks now and most large farm operations already have a good portion, if not all of their corn planted in rows now and off to a good start with the rain we've seen mixed in with sun and warmer temps over the last 7 days. Trail cams being checked here and there for turkey activity has revealed several bucks with 4-5" of antler growth. We have yet to set eyes on any bucks still packing antler from last fall, which isn't uncommon to see while turkey hunting the spring in Kentucky.
4.19.17 - We have 5 days in the books. So far we are 100%. 2 for 2 on hunters and 3 for 3 on birds. No one hunted on Sunday, killing birds on Saturday, Monday and Tuesday. Roost gobbling and gobbling on the ground were both great on Saturday and Monday. Weather was almost perfect to start the hunts. Tuesday being the toughest day with no roost gobbling on the property the hunt started on. The morning itself was calm and really no reason there shouldn't have been a gobble. By noon we were onto our 3rd property and around 1:10 we got a response gobble. Within 3-4 minutes he was strutting around a decoy setup he rushed into ready to show his dominance. Giving him a little time to show and clear the decoys, he was laid down at 14 yards. Our other birds have fell at roughly 12 and 23 yards. A good start to the Kentucky season. We'll see if we can keep up the momentum later with our next guys in. Check back later in the week and early next week for updates on upcoming hunts.
4.14.17 - Gobbling activity was pretty intense this morning from two of the farms visited during the sunrise time frame. The last gobble sounded off at 6:40, but several birds had their feet on the ground by 6:15. Suprisingly the first gobbles started at 5:11. The opener should be a good start to the season. From then on it looks like some chances of rain over the next 10 days, a few days of thunderstorms, which could have rain heavy at times. As normal we take things as they come and keep it all in perspective. We'll take rain over wind most any day. Check back next week for updates on the opening hunts.
What to expect during your hunt ---> HOW OUR HUNTS TAKE PLACE.
4.13.17 - We inch another day closer to the state opener. The picture posted above was taken yesterday. A couple 2 year olds trying to slip in on an older bird with hens. Not any big differences over the last few mornings. There may have been more gobbling overall, but the pattern continues to be once their feet are on the ground it gets quiet fairly quick. What we can't factor in is some sweet calling and slipping in to a gobblers bedroom to keep him hammering. We'll know the answer to that one in a couple days. Henned up gobblers can be tough, but some patience, persistance and just staying out there with them throughout the day can lead to packing one out on your back.
4.11.17 - A little rain started this morning off. By the time first light started peaking over the horizon it had dwindled to nothing. As had been the case for most mornings on this particular farm, one bird opened up first from the same ridge. Then others followed from surrounding wood lots. By 6:40 all was silent. Three more mornings to keep tabs on these birds before we try to start picking them off.
4.10.17 - The past week of turkey scouting hasn't really seen much change. Roost gobbling, some gobbling once on the ground, but not much. Pretty tight lipped after fly-down with gobblers pretty well trailing hens all day long. There has been a few 2 year olds we've caught along late morning or mid afternoons, but very few at this point. Gobblers with big numbers of hens has been most of what we are seeing. Lone gobbler with 8-15 hens, or a couple gobblers and a number of jakes with as many as 20-25 hens on some days. We will see a couple different days of rain this week with temps holding mostly in the 70's during the day and 50's at night. Pretty typical for April.
We'll be catching up on any voice mails and emails that have went unanswered today. Some calls have been returned and voice mails left already.
4.4.17 - After a long, but memorable week of chasing turkey in Mexico we're back into the swing of things here in West Kentucky. The Oscellated hunt was a great trip 5 hunters took 8 birds over 5 days (10 hunts) and unfortunately 4 misses occured and 1 lady hunter came home empty handed, well, she did have a hand full of feathers one afternoon. It was a different turkey hunting experience. I can say that without any question. From tactics, to environment and most everything in between. In some regards I would say it was also probably one of the more challenging turkey hunts I've been on. And I say that for several reasons. I won't go into great detail, but when you are not really calling and interacting with the birds, fairly limited to how you can setup on them and really at their mercy on how they want to use a field or area one day to the next, it can be a big game of chess. Luckily I was able to kill 3 very nice birds, one of which should score in the Top 10 among Single spurred Archery kills. Top 5 if no one kills one bigger this season. This completes my Archery and Shotgun World Slams, as it completes Shotgun World Slams for others in the group.
Birds here in Kentucky are getting on with the Spring of things. Roost gobbling, with some mornings decent gobbling on the ground while other mornings none. Right now they seem to be tagging along with hens most all day. Here and there you will find some 2 year olds on their own and jakes midday or in the afternoon, but it's still early and the birds are pretty well henned up. Still 11 days out from Opening day, and much will change between now and then. We're wet right now and the woods is greening up more and more by the day.
---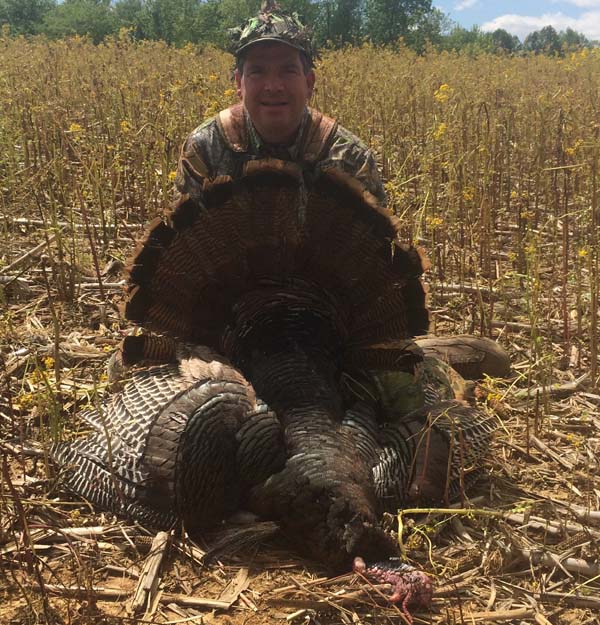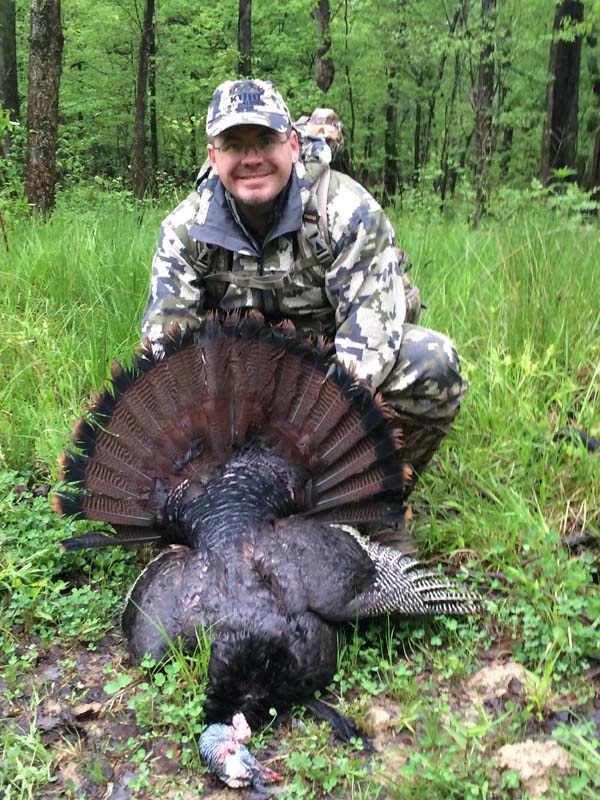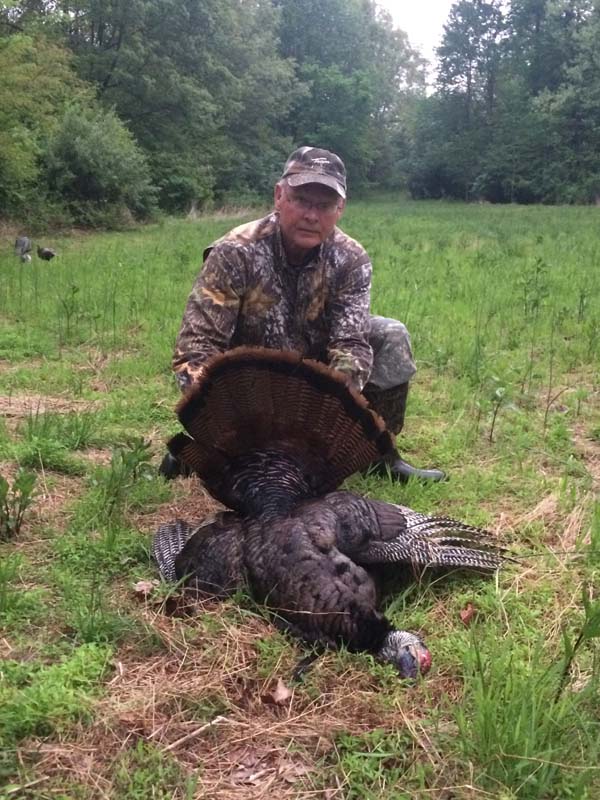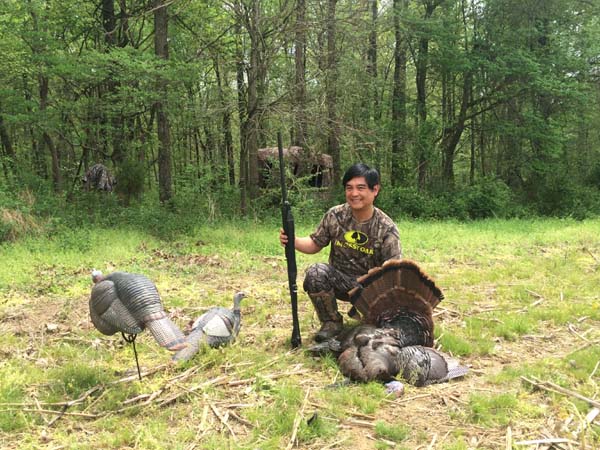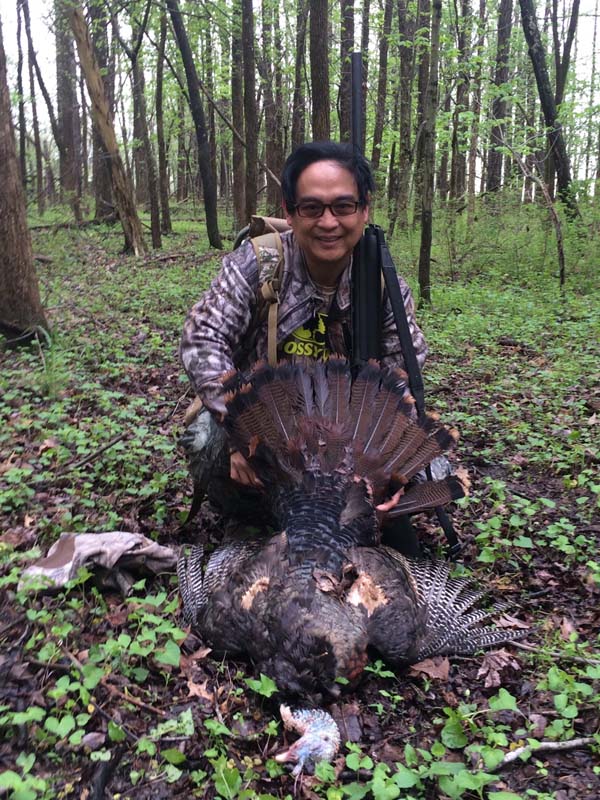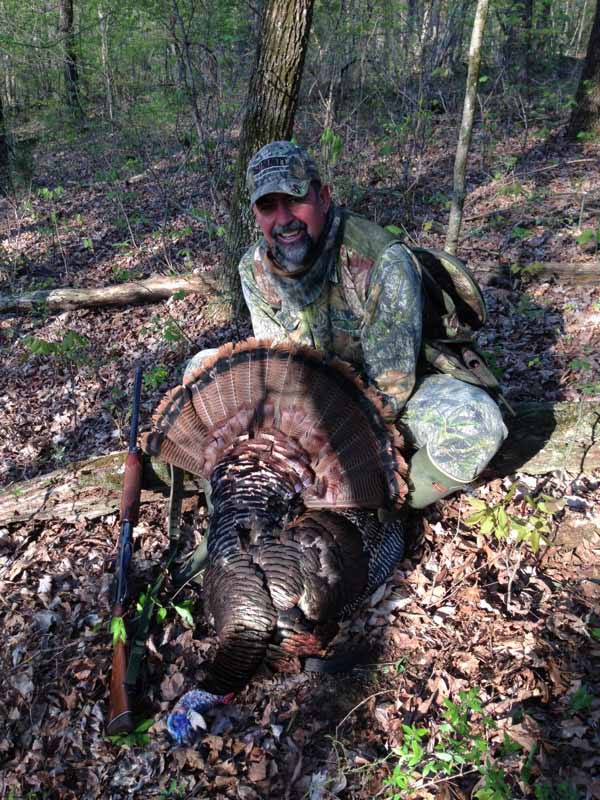 ---
We run cams 365 days per year.
---
If you are looking for help to hunt or fish in Kentucky drop us a line and see what we can put together for you. Good Hunting! wkohunts@gmail.com