Welcome to the Front Porch. Here you will find talk about what is going on with WKO and any success we've had. We use only recent photos and references from our hunts. This gives our clients an up-to-date, honest report. Check back daily, because like the seasons it will change.
---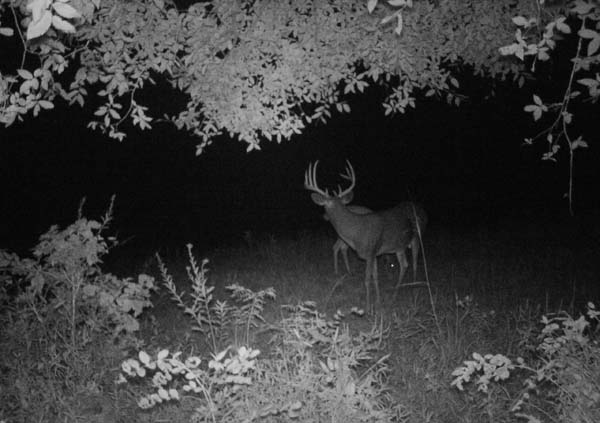 ---

Update: 10.18.17 - We've had a rifle hunt cancellation that could be setup as a 3, 4 or 5 day hunt between November 15th and 19th. Call or Email if you are interested in taking this opening.
We are well into our prep and hunt plans for the upcoming 2 day Muzzleloader season. Falling later than normal, 3rd Saturday in October, we hope to see a little better buck activity. It would have been nice to have seen these 30 degree mornings over the weekend but it look like it will warm up a bit with night time lows in the 50's and day highs in the low to mid 70's. A far cry from the 80's we seen last October on this hunt. We're in the process of updating the Trail Cam pages, so check back over the next several days and you will see updates there each day. Once we get into the last days of October we'll have links from the Front Porch to November Trail Cam Pics specifically. So watch for that button to show in the coming days.
If you are a bow hunter there is also a spot or two for you to squeeze in some of the better hunting of the fall during our pre-rut and rut archery hunts. Setup a hunt between Oct 25th and October 31st or November 4th and November 9th. Call or Email.
For you Fall Turkey hunters, the cooler temps have the birds active and moving around more than we've seen the last week or two. Mostly still in hen/poult flocks, while gobblers are bachelored up, most of the birds are spending their time on food sources, acorns and cut corn being the major draw right now.
10.16.17 - Fall is in the air this morning with 45 hitting the thermometer. Tonight we may be dipping into the high 30's in some areas. Most of the week is suppose to be more fall like rather than the 15-20 degrees above normal we had been seeing over the first 2 weeks of October. Deer activity has been pretty good. Acorns and cut corn fields have been key activity grabbers, as well as, some of the more established plots. With latter part of the summer being dry, fall plots have not faired to well. More of the better buck activity as usual has been nocturnal, but we've had several decent bucks surface during shooting hours the last 3-4 days with some of the cool off. We've not seen much in the way of scrape activity yet, but as we get to the 20th of October that should begin to pick up. We do have a few bucks on camera squaring off and pushing one another around and a few guys reporting seeing some smaller bucks harrassing and chasing does around.
Normally we are posting up a few Youth hunt success photos after the 2 day Youth rifle hunt but with the season occuring a week later this year and not having Columbus Day on Monday following it people could use as a travel day and keep their kids from missing school, we did not see as much of a demand for it early on and really decided to skip putting the hunt on this year unless our past clients wanted the hunt. What this means is, we have had over 5 full weeks of NO hunting pressure heading into our upcoming 2 day Muzzleloader hunt, which also falls a week later than normal. We hope the temps will stay away from the 80's during the day and we see a couple cool nights.
Time is running thin on the hunt dates below. If we do not have any interest this week we will lock the Archery dates up as they are. Hit us up if you are looking for a bow, rifle, fall turkey or late muzzleloader deer hunt.
October 25-31st, Archery - 3 to 7 day hunt. $750 to $1,500.
November 3-4-5 Archery, 1 Spot $750.
December 9-17, Muzzleloader - 3 days $600, 4 days $800.
What to expect during your hunt ---> HOW OUR HUNTS TAKE PLACE
10.03.17 - Often an over looked time and also when many state seasons are just opening up for the year, but early October can be a bank up time to be in the woods and here in Kentucky to be specific. Acorns and cut corn fields can be a deadly combination. Not only have we seen several bucks fall to these patterns, I have personally put down a couple of my better bow kills during the first days of October on a pattern that has proven to be very kind to me over the last 13-14 years. I'm not really going to give up the ins and outs on what I'm talking about, but if you can find this situation on your property, the farms you lease or even on public ground where states lease crop product to farmers, it's a pattern that can be deadly on a good buck.
For this reason we'd love to see a few more guys interested in the early October hunt in 2018........
For those of you that know, and many that do not, I was fortunate enough to draw a Kentucky Archery bull elk tag this fall. I was even more fortunate to find a few bulls to cooperate on opening day and was able to put an arrow in a young bull. Certainly not some of the monsters Kentucky has turned out in the last few years, but one that I'm proud of. Taking it on public ground without any help or finger pointing made it more meaningful. And just to be able to say I'm now one of the few bowhunters who can say they have killed a bull elk in Kentucky, well, it's pretty dang cool.
9.29.17 - Been a bit since our last update. We've spent time chasing buglin Elk from Eastern Kentucky to Southwest Colorado the last couple of weeks. We had some good and bad days, but generally it's just hard to have a bad day when you are in Elk country.
By design and planning our September here in Kentucky was one group of archery hunters for the opener. Outside of the velvet buck and a doe on the opening hunt there has not been any hunting to report, so there hasn't been much missed if you haven't been on the Front Porch in a while. We have been running cams and the guys afield over the last couple weeks keeping tabs on the whitetails and fall turkey. We are back in the swing of things and will be providing updates to the cam section in the next few days. We are slated to get back in action with the 2-day Muzzleloader weekend scheduled for October 21-22.
9.13.17 - We hope our Florida clients have faired well during the Hurricane and those in Texas also. If we need to do something different with your hunts this year or perhaps move them to 2018, please let us know.
We still have a few bucks sporting velvet this week, but they are becoming far and in between. Most of our better deer are hard-antlered now and beginning to fall out of summer patterns. Corn fields are getting cut by the day, though all the rain moved in from Irma has slowed that down. We've also began to see quite a few early planted beans getting combined, through the vast majority of them will come out in mid to late October, if not November. The acorn crop so far looks decent, though we've not seen a whole lot out of the white oaks so far. Mostly reds and other varieties.
We've picked up some new ground in recent weeks and have been taking some of our down time here in September to get more acquainted with it. With some of the addition it allows us to open up a few more spots this fall than we normally plan for. Please inquire about those possibilities by calling or droping us an email at wkohunts@gmail.com.
9.8.17 - Temps have remained cool, though the moon is bright. Our next scheduled hunt group is several weeks out, so there will not be any updates pertaining to hunt success since we did not put any on the books for the remainder of September. If you are interested in a Sept hunt let us know as we continue to Scout, work in the field and begin preparing for upcoming hunts.
9.7.17 - The archery opener had it's good and bad. We did see a buck in velvet and doe killed on the hunt, while everyone was seeing deer and smaller bucks, along with one hunter passing up on a 2yr old 8pt a couple evenings. The bigger bucks seemed to be rolling through the motion of changes as we began seeing the velvet coming off on the evening of the 2nd into the 3rd and several buck by the day. Outside of Monday, temps were more than favorable for good deer movement. No real excuses there. The moon coming bright day by day didn't help, but it's hard to say it hurt things as it's the early season and we're hunting unpressured deer. We'll have some pics updated tomorrow, along with success posted as well.
9.1.17 - It's been a long week of preparation, glassing, scouting and wondering what mother nature was going to throw at us. But opening day is here. We are seeing a few corn fields getting cut, the 40mph winds have put some red oak acorns on the ground, BUT we still have bucks in VELVET! Which is what most come to hunt the early season for.
We turn the page on another season tomorrow. Check back next week for updates on the hunt, updates in the trail cam section and hopefully a success photo or two.
What to expect during your hunt ---> HOW OUR HUNTS TAKE PLACE.
If you are looking for a custom call this spring, give these calls a look. They are great sounding, and good looking, custom turkey calls. I've owned them for a couple years now and have put both Spring and Fall gobblers down with them. Give Dave Hawksford consideration if you are in the market for a custom turkey call. You can find him online at http://www.morningsunturkeycalls.com/.
---
---
We run cams 365 days per year.
---
If you are looking for help to hunt or fish in Kentucky drop us a line and see what we can put together for you. Good Hunting! wkohunts@gmail.com