Welcome to the Front Porch. Here you will find talk about what is going on with WKO and any success we've had. We use only recent photos and references from our hunts. This gives our clients an up-to-date, honest report. Check back daily, because like the seasons it will change.
---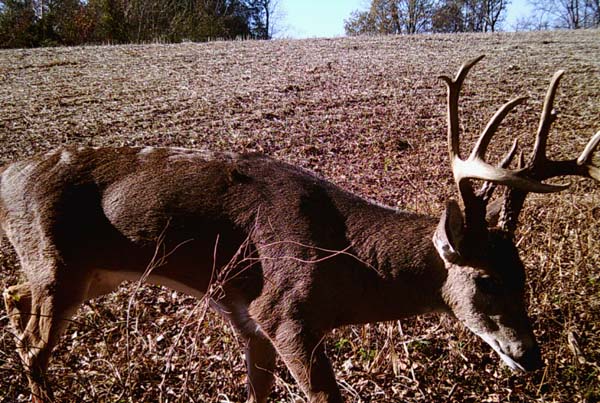 ---
Update: 12.13.17 - The late Muzzleloader opener had the colder temps we want to help put deer on their feet during daylight and on their way to food sources. However, with the cold came 15-25, even 30+mph winds which seemed to keep the majority of activity early or late in the day. And sparingly at best. The lone morning with light wind provided the best activity and 3 bucks seen. We did not have any kills during our opening hunt. Our next group gets under way tomorrow and will follow 30-40mph winds today and blue bird skies. Temps will warm up as we approach Sunday and the season closing.
Waterfowl for the most part has a been a big miss. Bird numbers in the area are up but down compared to most years. We've seen some pushes of birds, but we've not seen any great action result. It looks like it will be another seasons of waiting to see what January may bring us.
We have 1 Youth opening for the hunt below. We also have a late season Archery hunt for the 12-13-14th which has an opening.
December 30-31, Youth Rifle - 2 days $400
What to expect during your hunt ---> HOW OUR HUNTS TAKE PLACE.
12.10.17 - 15-25mph winds seemed to keep deer activity at a minimum yesterday. With a SW wind today and a lighter wind we should see a change in movement. Only a small buck and a few does were seen yesterday.
If you want to book wiht us in 2018 now is the time to book. Most all of our prime hunting dates will book between now and mid to late February. 2018 Kentucky deer hunt prices.
12.9.17 - The late muzzleloader opener indeed got off to a cold start with stiffs wind taking the wind chill down into the single digits. With 4 of our hunters being from the deep south, time on the stand may be a bit short today.
12.8.17 - We open the late Muzzleloader tomorrow with at least one element of what we need to see late in the game, colder temps. We'll see 20's at night and 30's during the day tomorrow before they climb back into the 40's and 50's for Sunday and Monday. The 15-20mph winds on Saturday we'd rather not see, but it's part of the hunt.
The majority of cam pics continue to be at night, but a few more have been day time the last few days as temps have turned cold. Seems they may be wanting to eat a bit more. We've not seen any real hints of a second rut, but that can change by the day or while on stand with a 1 hot doe. For the most part, any type of second rut varies greatly from year to year and is hit or miss at best.
Waterfowling has never been good from day 1. Dry conditions and warmth have dictated the season. Only until now has it been close to cold. And we are still dry and blue bird skies most days. Hopefully a lot begins to happen up north to transition some ducks and geese south. Otherwise, it's mostly a few snows and specs that dot the skies right now, mixing in a few Canadians here in there.
12.1.17 - Up Next? The Fall Turkey Shotgun season. We'll see what we can put down or not with the opener on Saturday morning. Check back for an update on this hunt along with updated trail cam pics since we ended our 2017 rifle hunts. For those looking to hunt with us in 2018, now is the time to start planning. Our prime hunt dates will book during the months of December and January.
11.28.17 - We hope everyone had a wonderful Thanksgiving and was able to enjoy family, food, and perhaps got to enjoy the outdoors a bit.
First thing is first. Below are a couple hunts someone can jump on. We have limited openings for the opening wknd of Muzzleloader, like 1 spot. We also have had another spot open up for the second hunt which is the 14-17th. Also, we have the youth rifle hunt taking place the weekend after Christmas with limit availability.
The Waterfowl opening was not like years past. Very few big ducks in our areas and what was around were pretty isolated, but some guys did have a few good days. For everyone else, it was like September duck hunting, less about 30 degrees. The bag for most was wood ducks. We need a lot of water locally and we also need what is needed every year, a big push of cold winter weather up north to push birds our way. Otherwise, the waterfowling will suffer again this year.
As we plan each year, we have no deer hunting pressure on our farms from 11/20-12/8. We cut out the last week of rifle season to let the deer settle down and get back to some level of normal activity, maybe some second rut action, but more than anything some level of bedding/feeding patterns that we try to key on during the late muzzleloader, youth or late archery seasons. Many of the cam pics today are nocturnal, but a decent amount of bucks are still cruising and searching for those last does. Cold temps should be on the wish list for the late season hunts to help force deer to food sources. Click Here to view November Trail Cam pictures.
We'll start setting up our predator hunts beginning in January and running them through February, perhaps mid-March if conditions are favorable to do so.
11.20.17 - Whereas our second hunt had some success it wasn't quite what we had seen during the second group in years past. Absent was what is usually a couple of our biggest bucks of the season hitting the ground during the latter half of the opening week of rifle season. This year the second group was plagued with weather. Namely wind and rain. 40-50mph winds blew on Saturday. Two of the final 5 days were plagued with heavy periods of rain, while wind also proved tough during 3.5 of the final 5 days. The group had 2 solid mornings, Friday and Sunday in our opinion. We had a buck fall Wednesday before rain and wind hit. Then bucks killed on Friday and 3 on Sunday. Buck activity seemed to start turning around with some chasing on Saturday before the big rains, then the bottom fell out of the temps over night and on Sunday a decent frost and 19mph NW winds kicked things in a bit as several bucks were seen chasing. We did have a couple hunters from each hunt group who went home empty handed. Whether it was from not seeing a shooter buck, missing a shot, wounding a buck or in part bad weather impacting time spent in the woods.
Next up is the opening segment of our Waterfowl season Thursday. Currently the waterfowl situation is looking bleak with not a lot of big ducks in the area, some but not many.
We'll be updating the site with November trail cam pictures and success photos over the next couple of days. If you want to book a 2018 rifle hunt, space is limited due to those who have tentatively booked to return. It will be important to contact us early this year if you want to rifle hunt in 2018.
---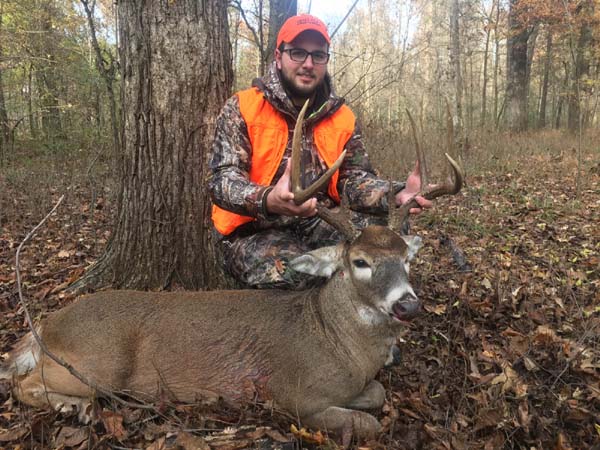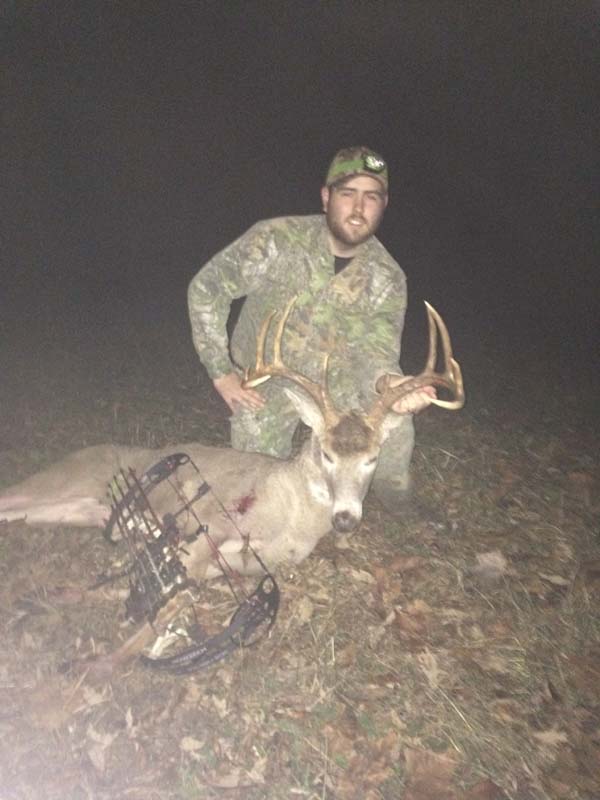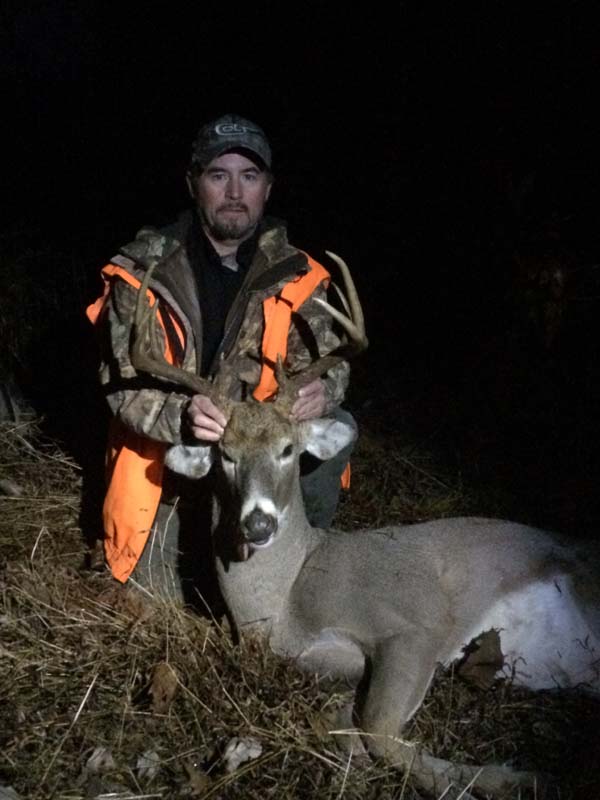 ---
We run cams 365 days per year.
---
If you are looking for help to hunt or fish in Kentucky drop us a line and see what we can put together for you. Good Hunting! wkohunts@gmail.com