Welcome to the Front Porch. Here you will find talk about what is going on with WKO and any success we've had. We use only recent photos and references from our hunts. This gives our clients an up-to-date, honest report. Check back daily, because like the seasons it will change.
---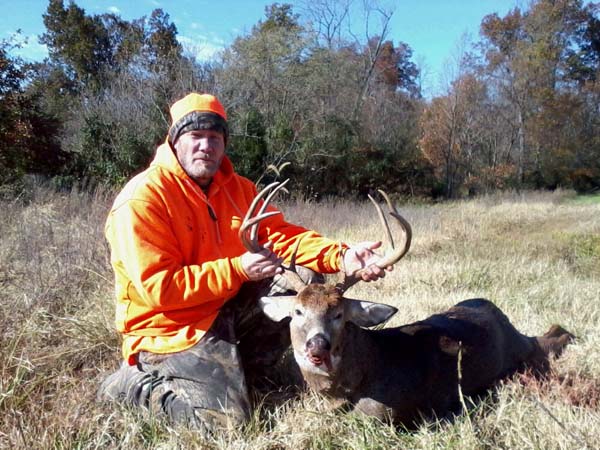 ---
TODAY's News from the Porch:
Update: 12.5.13 - We are a week into the waterfowl season and not a lot of great things to report. The opener looked promoising with ducks stacked up in most areas of west Kentucky and had most duck hunters jacked up about the opener. However the bottom fell out of the temperatures on the 27th and froze most everything over holding roosted ducks which moved them. Come sunrise on the 28th there was not a lot of boom-boom going on. Don't get me wrong there were blinds and pits that shot ducks and some shot pretty good numbers, but others were skunked or froze out of their holes. Unfortunately just one of the things we deal with around here. Even food plots, flooded plots by pumped water, having ice eaters and open water doesn't guarantee ducks pouring into your hole. Most of the action has been smaller groups, singles, doubles or 3-4 birds at a time. We've seen the occassional big flight, but haven't seen any great numbers try to start pouring back in again. We're on the heels of a winter storm with rain, sleet and snow moving in later today, tonight and tomorrow with accumulations expected of 3-6". Temps will drop into the teens and single digits at night. We should see a push of birds, but we also risk being flown over. We'll see what happens over the next few hunts. We've killed birds every day, but no big bags or limiting out as of yet.
The second fall turkey shotgun segment also opens on Saturday and with the aforementioned weather pending could mean a pretty dismal and miserable hunt. Our experience has been weather situations like this will keep birds, inparticular gobblers, on roost late into the morning and some time into the day if a fairly measurable snow is falling. Acorns, cut corn and food plots geared toward fall will rule supreme if and when this weather arrives.
We've also began to jump back into deer mode as the late Muzzlueloader season is set to open in 9 days. As has always been our practice, we end our rifle hunts early and do not put any hunting pressure on the deer until the late MZ hunt. We started back with supplemental feeding and keeping tabs on activity at our food plots and winter wheat. We continue to see action on acorns. The unknown at this time is whether or not we'll see any influence of a second rut starting to show and if we'll have the weather (cold) we like to see to help keep deer needing to feed. Regaarding the second rut, we have seen a couple scrapes open back up in the last few days and a few good bucks at them, it's just been mostly nocturnal at this time.
For those of you looking for a 2014 hunt and looking over what we have to offer. Our hunts book fairly fast and many of our 2014 hunts are beginning to take shape. Some dates are already booked from hunters returning from this season or past years. We can't guarantee you will kill a big buck, nor can we really guarantee that you will see a shooter class buck. There are just too many variables that come into play, many of which you the hunter control yourself and we find impact hunts more and more every day, like cell phones. What I can tell you is we work hard to put you in front of a good buck before you arrive and while you are here. You are not stuck in 1 stand or 1 farm. That doesn't mean you won't hunt the same stand more than once or hunt a farm more than once, what it means is we have multiple farms and the ability to move if one farm or area is not producing results.
For a look at what to expect during your hunt ---> HOW OUR HUNTS TAKE PLACE.
11.27.13 - We'll open the 2013-14 waterfowl season tomorrow morning. Over the last day we've seen a good push of ducks into the area with the help of the cold temps to the north. Should be an interesting opener after duck numbers were looking pretty bleak Sunday and Tuesday mornings.
Happy Thanksgiving to everyone. We appreciate everyone who has hunted with us past, present and who may be considering us in the future. If you get out in the woods or on the water over the Holiday, be safe and if you have the chance, take a kid hunting. Even better if you can introduce a new kid to what we all love to do.
Good Hunting - The WKO Team
11.25.13 - Heading into the last weekend of rifle we wasn't sure what kind of activity we'd get. The hit or miss signs of the rut that we'd fought all month long or what had seemed to be a decent amount of buck activity for a few days during the week. With high winds in the forecast our concern was activity would be affected. But with near record lows at night and bone-chilling wind chills activity on Sunday activity was pretty good. Good enough that our hunters didn't have to sit through 18 degree temps and 10-15mph winds on Sunday because they got it done Saturday and in pretty good fashion. We had a really nice 151" 10pt hit the ground not long after the hunt got going Saturday morning. Good mass and tine length helped this fairly narrow spread buck hit the 150 mark. Then on another farm during the same hour a big doe hit the ground followed by what has to be a record number of misses for us this year on a good buck. Frustrated the hunter decided to take a second doe and fill the freezer. The afternoon hunt ended with our lone hunter tagging out with a doe to compliment his buck.
Jumping to Waterfowl it's a little up in the air right now on how the opener will be later this week. There doesn't appear to be a lot of numbers in the area right now but there are ducks. With the cold temps up north and a front pushing in from the west it could move some birds into our area to add to our numbers. Needless to say everything is in order and set for the the opener in 3 mornings.
11.22.13 - A sloppy beginning to the close of the rifle season here in Kentucky. Rain and wind will lead into a big drop in temps as we look at teens at night and 30 for day time highs. With 20+mph winds the last couple days of season could prove tough to those left hunting and trying to fill their tags. The deer were on their feet this morning ahead of the front in good numbers feeding up. This time of year you never know when you may see some rut action and that may be the glimmer of hope needed to put a good buck on the ground. Higher wind on our last few hunts has led to minimal deer activity and what activity there has been came very early or late in the day.
We are about 6 days our from the Waterfowl season. Temps and weather we are seeing in the next couple days couldn't be better for the ducks. The weather trend will stay below freezing all of next week which could help with bird numbers for the opening hunts over the 4-day holiday weekend.
And we can't forget about our next fall turkey hunt. We continue to keep tabs on a few flocks for the next shotgun segment in December. The rifle season scattered the flocks quite a bit but they should settle back into their normal roosts and areas over the next week as the woods quieten from deer season.
We've made some updates to the trail cam section and have some more coming next week, along with reports from our last rifle deer hunts. If interested in hunting with us in 2014 now is a good time to start those conversations. We will see the majority of our preferred dates booked by mid-January. And with the number of returning hunters from 2013, we may see the prime dates booked by the first of the year.
11.20.13 - We have 4 days left in our firearms season with a couple hunters left to hunt. Typically we only hunt the first 9-10 days of season, but if we will try to accommodate if have a special request or circumstance. With some rain chances the next couple of days and then cooler temps prevailing for the final 2 days it could lead to some of the best hunting we've seen in November yet. We know we still have some bucks cruising and some chasing occuring, it's just always at a different level than early to mid-November. Our trail cam checks the last two days showed some nice bucks still walking around and although the majority of pics were nocturnal, several were during shooting hours. Our cams in areas of oaks showed quite a bit of activity on acorns during light, with most nocturnal activity on wheat, food plots and supplemental food sources such as corn which we've started back up this week. With no hunting pressure for a week on any of the properties we expect some decent action to be seen on the final hunt. Once we get past Sunday our areas will have about 3 weeks of down time. This has always been our practice. It lets deer get back into some normalcy after the rut and hunting pressure prior to our December Muzzleloader hunts and late archery season.
After closing out the rilfe hunt Sunday we will jump into Waterfowl hunts beginning on Thanksgiving. We'll also have a little fall turkey action thrown into the mix in December as well. So be sure to check back to keep up with what we have going on, any success we've had and anything else we feel may be important.
11.18.13 - We still have a couple rifle hunts to take place the last weekend of the season, but the bulk of the hunts were completed this past weekend. As we got through the first hunts we thought with colder temps and moving closer to the full moon we may see more rut activity, but the rut action seemed to take a nose dive. Wednesday we seen our first day without a kill even though we did record a couple more misses. Thursday we seen decent 10 killed and a couple of nice bucks seen but just no shot opportunities. Friday we seen a couple more decent bucks put down and a smaller buck as we were looking at 25mph winds and mid 60's on Saturday for weather followed by 70's and severe storms on Sunday. Can't hardly blame anyone for taking the opportunity to put a tag on a buck with the doom and gloom we had in the forecast. Saturday started off pretty good with 2 shots coming early. One connecting on a 2.5 year old 8pt and the other appeared to be a miss. The shots were literally what sounded like a minute apart. Then from another property around the same time came reports of another buck being shot. The wind got stronger as the day wore longer and outside 1 decent looking buck being spotted around 2pm and no shot, only a couple scrub heads were seen which finished out the day. Sunday was a wash out with severe storms in the areas prior to and right at daylight as hunters chose to call it with more severe weather on the way that actually produced multiple tornados in our area.
We'll get some success photos posted up in the next couple of days, as well as, additions to the trail cam section. We know a number of great bucks have made it through the first 10 days with most likely to make it into 2014 as our deer hunting slows down in December and January.
11.11.13 - We'd like to Thank those of you who served our country in the past, are doing so today or plan to in the future. We would also like to remember and Thank family and friends who served and fought for this great country of ours. We have shared many days afield with members of our military over the years and it's only fitting to say Thanks for keeping us safe and our nation out of harms way.
The rilfe opener was a windy affair with 25mph most all day. Deer movement was slow across the properties we hunted with not much being reported. We did have two nice 8pts killed during the morning and a 9pt killed early in the afternoon. Sunday was not as windy but temperatures were warm. Deer activity picked up and more deer were seen but only 1 shooter, another great 8 pointer was killed on the morning hunts. We only had 2 guys choose to hunt all day and the report was no activity. By mid afternoon things picked up and everyone reported some action. Several younger bucks were seen chasing in different areas which led to another buck killed on the day around 4pm, followed by our first miss of the rifle season 20 or so minutes later.
Our third day started out much cooler and not as windy. More typical of November and hunting rutting whitetails. At this point we've had 5 of 8 kill and had 3 left hunting and had a new hunter start. About 10 minutes til 8 we had a shot fired which later turned out to be our 2nd miss of the season. On another property and within 5 or so minutes of the miss we had our 6th buck killed which was a 6pt.
So we are running 6 of 8 on our first group with what looks to be a decent afternoon ahead. Temps are warm but will be falling as a front approaches that will bring rain, cold and a chance of a snowy mix tonight. Deer were pretty active throughout most of the morning and suspect the does should be up feeding this afternoon prior to the front. Hopefully we'll have some bucks on their feet harrassing a few of the does at the dinner table.
More to come...so check back soon.
For a look at what to expect during your hunt ---> HOW OUR HUNTS TAKE PLACE.
---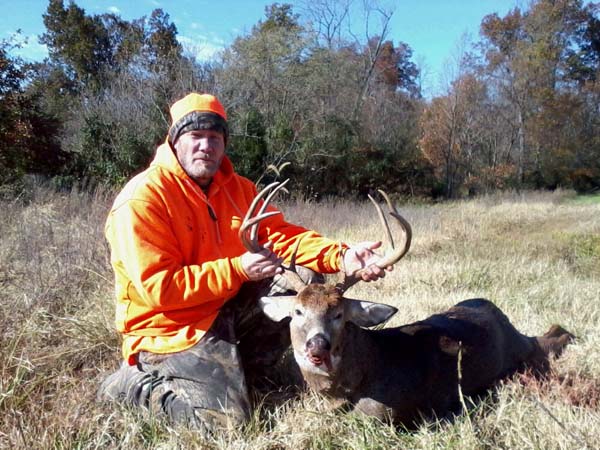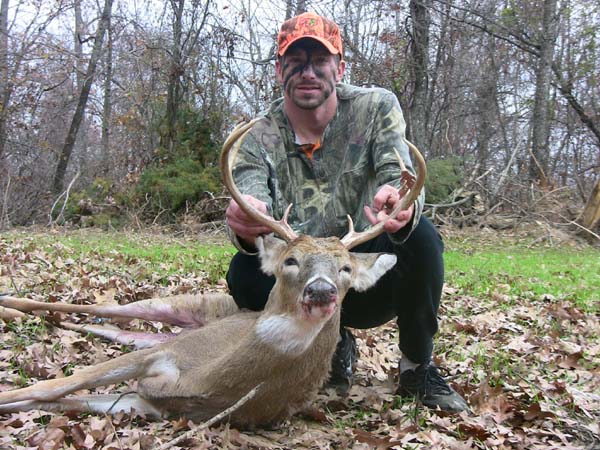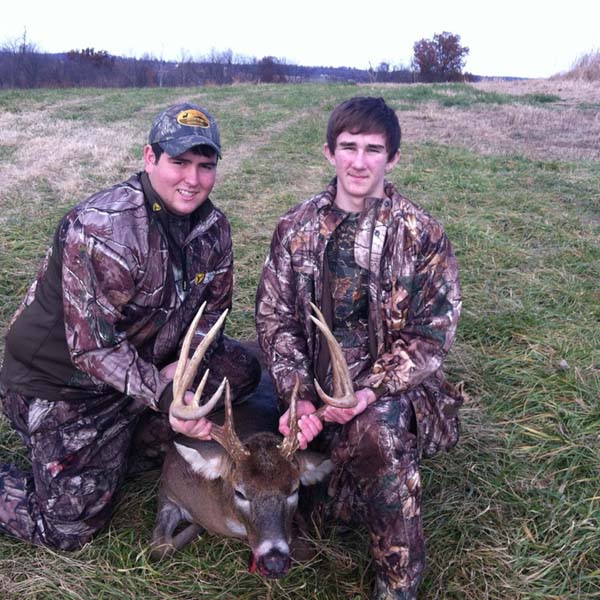 ---
We run cams 365 days per year.
---
If you are looking for help to hunt or fish in Kentucky drop us a line and see what we can put together for you. Good Hunting! wkohunts@gmail.com
Western Kentucky, Kentucky hunting, trophy bucks, trophy whitetail, Pope and Young, Boone and Crocket, Bow hunting, Kentucky bowhunting, Kentucky archery, Kentucky rifle hunt, Kentucky outfitter, Kentucky guides, Kentucky hunting guides, archery, blackpowder, rifle, crossbow, kentucky turkey hunting, Eastern turkey, Rio grande turkey, Merriams turkey, Osceola turkey, wild hogs, wild pigs, Grand Slam hunts, Guided hunts, Western Kentucky Outdoors, Bowhunting Kentucky, Hunting Kentucky