Welcome to the Front Porch. Here you will find talk about what is going on with WKO and any success we've had. We use only recent photos and references from our hunts. This gives our clients an up-to-date, honest report. Check back daily, because like the seasons it will change.
---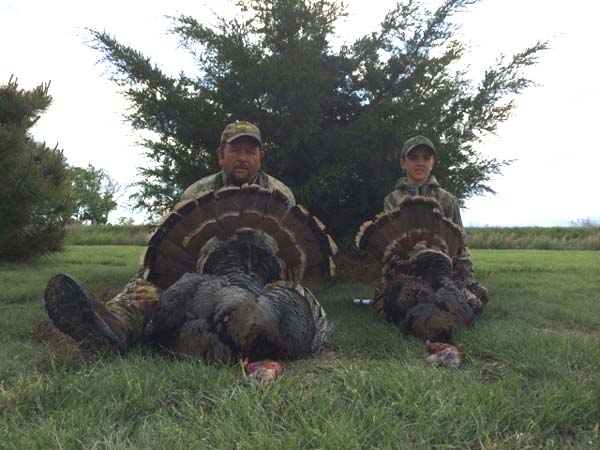 ---
TODAY's News from the Porch:
Update: 5.21.15 - Once again Midwest hunting was good to us and always nice to hang up your turkey vest on a good note. Although we dealt with henned up birds, Birds gobbled hard and often. Unlike our home Eastern birds, hunting birds that will gobble all day is a nice change of pace. We seen birds killed early, mid-morning, mid-afternoon and before fly up. The number of jakes was mind boggling and more often than not we seen jakes intercept our hunts and run long beards off. Next season should be nothing short of phenominal with the number of jakes we encountered on every spot we hunted.
Next up we'll be tackling some bowfishing and property work. Bucks are putting the inches on already so we'll be getting more of our trail cams set in the coming weeks as well.
If you are looking for a deer hunt this fall, below are openings we currently have published hunt dates. If you are looking for something specific like a combination hunt, if you are going to be in the area and looking for a quick hunt or some other situations, don't hesitate to drop us an email or call. We'd be glad to let you know what we can do to meet your needs.
Archery - September 11-14th, October 2nd-4th (Crossbow Open)
Muzzleloader - October 17/18th and December 12-20th.
Rifle - The best we can offer is to place you on a cancellation list in the event one occurs.
Youth Rifle- October 10/11th and December 26/27th.
5.14.15 - Check back this time next week to learn about success on our midwest hunts.
5.12.15 - The 2015 Spring turkey season wrapped up on Sunday. From initial harvest reports the statewide harvest was up 3% over 2014 numbers. Harvest is still below 2012 totals, but a bumper crop of jakes this year from what we seen across all of our areas should help get 2016 back to record harvest levels. WKO had a good spring producing a 91% shot opportunity and 83% success rate, having one youth hunter go without an opportunity. We'll travel to Kansas and Nebraska next to see how many longbeards we can get smacked in the head there. If you are interested in hunting with us in 2016 now is the time to book. Dates have already began to fill and expect limited to no availability in Kentucky come June. If you are interested in Osceolas, Rios or Nebraska drop us an email and we'll provide specific information on those hunts as they are finalized for 2016. We are also planning to travel to Campeche, Mexico in 2017 to hunt the Osceolated Turkey if there is interest there.
Whether you choose to hunt with us or not, we want you to have a good experience and hunt wherever it may be.. You should at least ask questions. If you can, get what you can in writing. If an outfitter tells you there will only be 10 hunters during your rilfe hunt, ask that his words be included in your hunt contract or as part of your receipt of deposit. An email is a great way to ask the questions and have the answers/repsonse in writing. The #1 problem, and one that is growing based on what we hear from clients about their experiences, showing up for your hunt and finding an over booked outfitter. Spare yourself the frustration and ask the questions up front. Know what to expect.
What to expect during your hunt ---> HOW OUR HUNTS TAKE PLACE.
5.8.15 - Are we still turkey hunting? The answer is yes. We'll hunt all the way up until the sun sets on the 2015 turkey season. Birds have been hammering all week. Not every bird is willing to work or cooperate, but just having them gobble is huge when hunting late in the season. Check back next week and we'll provide a wrap up for the 2015 Spring season.
Up next will be some local bow fishing and then Rio Grande turkey hunting out west.
5.4.15 - This was the 5th morning in a row where the birds have been on and off with roost gobbling. After a gobblefest on Friday and Saturday, Sunday brought only a few gobbles from the roost and nothing once the birds were on the ground. This morning the roost gobble was pretty good with some gobbling on the ground but eventually they turned off the sound. We continued the success streak on Saturday with a hunt captured on video, but got shut out on Sunday, hunting a half day without really working a bird. Right now it's still a pretty good mix of henned up birds early and birds who are roosted alone and willing to work. Farmers are working in the fields heavy right now spraying, disking and planting which seems to have changed up a few birds. Some years the last days of season can be feast or famine. With 7 days of season remaining it will be fun to see how things shake out during our last hunts.
4.29.15 - The birds were back hammering at it this morning from the roost and on the ground. This is the part of season where hunting gets really fun. As hens are sitting on nests and get up to feed around a bit before going back to lay an egg or sit on their nests, the old gobblers get to running around wondering where all their company went and get desparate to find a hen. Great time to get a bird hot mid-morning or midday and pull him on a string. We've had a lot of good hunts this spring right off the roost that were quick. Hard to beat calling and coaxing an old bird in after getting him fired up.
We've finally had 4 conscecutive days of steady weather and the birds are responding. Great time to be out chasing birds!
4.27.15 - Despite some rain, high water, wind at times and a lull in gobbling activity for a few days, the first 10 days of turkey season has been good. There has only been 1 day where a gobbler wasn't worked and that accounts for the only day we've hunted and did not see a bird killed. Most hunts have been quick with hunts ending not long after fly-down. Setups have been key to that success. We have a couple down days before getting back into our next hunts. 2016 hunt dates for Spring Gobblers are filling up fast.
You can find hunts we have put together for the 2015 seasons Here. If you have questions or do not see what you are interested in hit us up with an email. At this time many of the prime hunt dates are full or nearly full, pending deposits.
If you are in the market for a great sounding, and good looking, custom turkey call give Dave Hawksford consideration. You can find him online at http://www.morningsunturkeycalls.com/.
For an idea of what to expect take a look at this page---> HOW OUR HUNTS TAKE PLACE.
---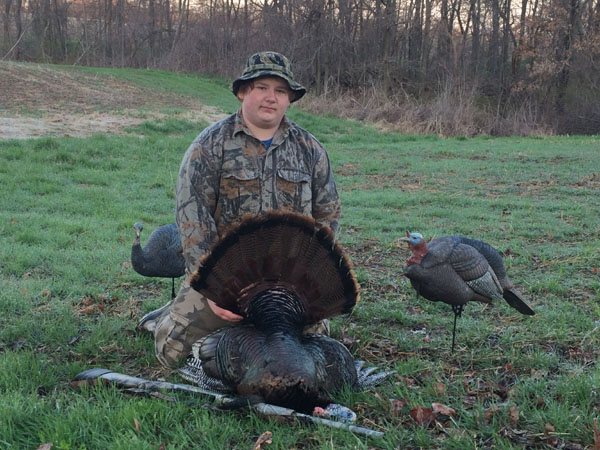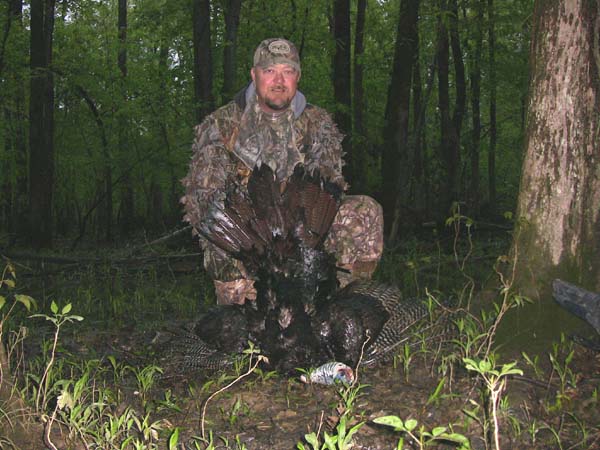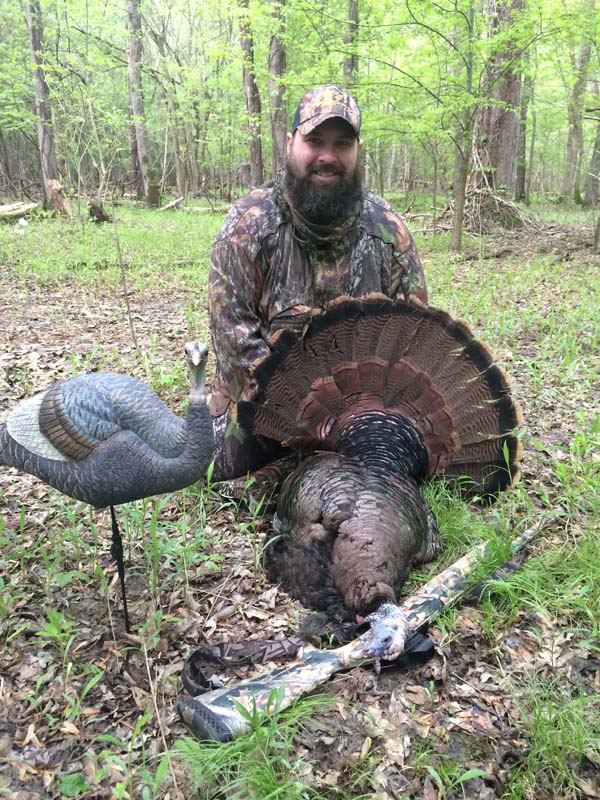 ---
We run cams 365 days per year.
---
If you are looking for help to hunt or fish in Kentucky drop us a line and see what we can put together for you. Good Hunting! wkohunts@gmail.com