Welcome to the Front Porch. Here you will find talk about what is going on with WKO and any success we've had. We use only recent photos and references from our hunts. This gives our clients an up-to-date, honest report. Check back daily, because like the seasons it will change.
---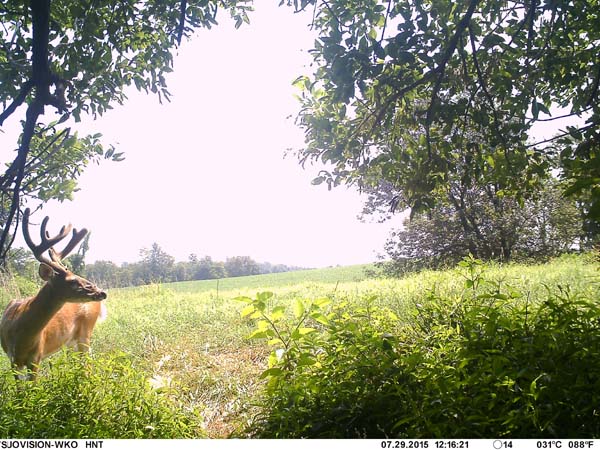 ---
TODAY's News from the Porch:
Update: 8.26.15 - Busy time of the year as scouting becomes more and more important. So far all the bucks we are laying eyes on or showing up on camera still have their velvet. With the opener 10 days away time will only tell if we going into opening weekend with velvet bucks or not. We'll complete a number of updates in the trail cam section next week as we pull cards again this week. We try to reduce impacting the bucks as we get into late-August to avoid bumping or pressuring them off of patterns. So far the acorn crop seems spotty at best for us. Soft-mast is pretty thin. Most persimmon trees did not produce. Peach and pear trees also produced very little to none. Crops, food plots, browse and supplemental feed may be of greater importance this fall than in years with heavy mast crops.
8.18.15 - has it really been a week since our last post. Time flies when your busy in the field. 19 days and counting for our opening archery hunt. Fall plots have been most of the work of late. Evening glassing continues to have bucks where they have been most of the summer so things are staying the course there. It doesn't appear we will have any early corn fields cut to change up patterns like we've dealt with in the past. Temps have been normal to below normal as we face some rain in the forecast the next couple days.
Stand placement will begin to accelerate over the next week as we make sure buck movement and patterns hold true.
8.11.15 - We've added a few new pics in the Trail Cam section and will have more posted later this week. As we get into the season we will continue to post pics on the site, but may become less frequent.
Speaking of the season we are officially 25 days from the Archery opener. 60 from Youth Rifle, 67 from early Muzzleloader and 81 days from November first, making our Rifle hunter 95 days away. Time will fly by.
Antler growth is reaching it's end and after the next few days it will be hard to determine any additional growth. We are already seeing some bucks widening their range a bit. Some bucks that we've watched enter a particular field from the same corner or tree line are now entering from other locations and in a couple cases seeing them in a different field altogether. Pretty common to see this and we've see a couple of new bucks start appearing for the same reasons. Whereas we have some stands already set in transitions, within another week to 10 days we'll be setting additional evening stands once some of the shake-up we are seeing has slowed and a pattern emerges again. We glassed 3 dandy bucks this morning crossing a bean field we had not laid eyes on all summer.
On another note, I have a great opportunity to share with someone who is interested in bowhunting Nebraska during the rut. This is for 1 hunter. You have a couple options for lodging and some control over when you start and end your hunt in late-October and first week of November, hunting 5 full days. This is probably the most affordable archery hunt you will find in Nebraska. If interested, and I mean interested person(s) only, shoot me an email with Nebraska in the subject line or give me a call.
8.10.15 - Thanks for all the response to the rifle hunt we had come open. This hunt is now booked. We owe a few of you emails and calls about various hunts and should have those calls returned and emails answered today. The link below is a good representation of what to expect if hunting with us.
What to expect during your hunt ---> HOW OUR HUNTS TAKE PLACE.
8.5.15 - 32 more days until the Archery opener. Hopefully everyone rolling in for opening week hunts have your bows tuned and arrows flying true. If not, now is the time to get it together. Most do not shoot close range, but with all the foilage in the woods during early season many shots can be 7-12 yards so I encourage everyone to practice those so-called "Chip" shots.... If you miss, we miss.
Fall plot work continues and with some seed in the ground over the last 5 days, the first rain we seen yesterday in a while will help get the fall plots off to a good start. Now if we see ample moisture for the next 30-40 days fall plots should be good to go. Antler growth is nearing it's end with mid August usually about the time when full development is reached. With a wet spring and early summer forage has been good and usually with good rains early we tend to see more inches put on, particular in mass.
We had several cams die on us last week which reduced the number of cam pics we had to review. A couple of cams we had been eager to check and to find them dead and unoperable was extremely disappointing. Even so there were thousands of pics to wade through. And we have some of those updated in our trail cam section.
7.29.15 - Bean fields are really beginning to get hit hard of the evenings. Also seeing quite a bit of activity lingering within the first our of daylight as well. With water being abundant at this point of the summer, not much focus to put on water holes like in dry years. Working hard on ground prep for fall plots and a lake project. Should be seeding and reseeding some plots in the next 7-10 days or when forecasted rain dictates it.
Trail cam photos updated. Click Here. More to be posted in the coming days.
Below are available hunts at this time. We have had a few cancellations where we have guys with deposits pending to fill them. If they are not received by Monday, these archery and rifle hunts will be made available here on the site.
Youth Rifle- October 10/11th and December 26/27th.
Archery - October 2nd-4th (Crossbow Open)
Muzzleloader - December 12-20th.
For an idea of what to expect take a look at this page---> HOW OUR HUNTS TAKE PLACE.
7.27.15 - 40 days until the archery opener. July has been a wet month. Browse, crops and food plots are all doing well. Antler growth this past 7-10 days has been awesome to see. We'll begin posting up some of the recent cam pics tomorrw. Pic above is a small bachelor group of 5 bucks, with a couple coming up over the hill in the background. Would be a tough morning hunt in this location, but over the next several weeks shoudl be able to pinpoint morning stand locations to catch them slipping back in to bed.
If you are in the market for a great sounding, and good looking, custom turkey call give Dave Hawksford consideration. You can find him online at http://www.morningsunturkeycalls.com/.
---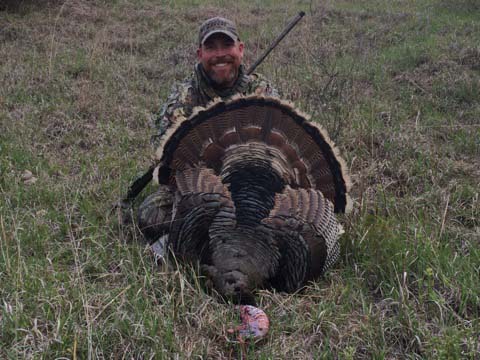 ---
We run cams 365 days per year.
---
If you are looking for help to hunt or fish in Kentucky drop us a line and see what we can put together for you. Good Hunting! wkohunts@gmail.com