Welcome to the Front Porch. Here you will find talk about what is going on with WKO and any success we've had. We use only recent photos and references from our hunts. This gives our clients an up-to-date, honest report. Check back daily, because like the seasons it will change.
---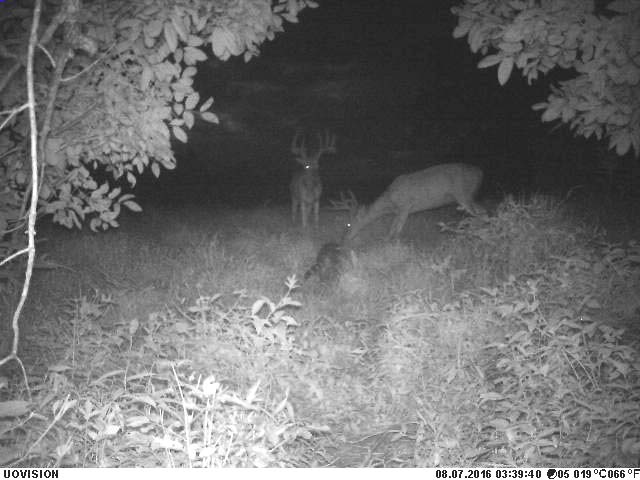 ---
TODAY's News from the Porch:
Update: 8.15.16 - We dodged the swamping that had been forecasted but still seen rain off and on to continue the wet summer pattern. This has made fall plot work difficult and it does not look like we are going to catch a break this week with rain either. We may be holding off on ground prep to avoid any risk of impacting a few of the bucks we have using these areas at this time for the opening bow hunts. We continue to get stands dialed in with glassing during the evening and recent trail cam checks. 19 days out from the opener.
Several bucks continued to put on growth the last several days as we found on a recent check of half our trail cams. Updates to come in the trail cam section. So stay tuned and check back there for updates.
Don't forget to follow some of our images on Instagram at the following hastags#.
#wkohunts #kyvelvetbucks #kyearlyarchery #summerbucks
Thanks to everyone who has inquired about the posted available dates. We've had a couple taken. Below is an updated list. These hunts will not be discounted. They will either be booked or not filled. That is just the way we operate. The guys already hunting will benefit. We'll keep the up on the Front Porch for a couple more weeks. After that we'll close the dates and move on, adding waterfowl hunting in December for the muzzleloader dates.
3-day Archery or Crossbow October 1-2-3 (1 hunter)
2-day Youth Rife October 8-9th (1 youth under 15)
3-day Late Muzzleloader December 10-11-12th. (2 hunters)
What to expect during your hunt ---> HOW OUR HUNTS TAKE PLACE.
8.11.16 - Once again rain looks to over shadow the month as we are projected to see 8-10 inches over the next couple of days and over all above average changes of rain predicted for the next 11 straight days. Not the forecast you need or want to see when ground prep for fall plots is the chore right now. Deer activity on the bean fields continues with most being in the evening hours. Most days it's late but here and there some will show up by 6pm, then come and go prior to darkness. In the mornings some can be found hanging around just after first light. Usually well before sun up they have faded back into the timber and headed toward bedding areas. Looks like most of the bucks are reaching peak antler growth as some of the bigger bucks do not appear to have put on any growth since Monday. It varies between deer, but generally mid-August finds most of them done putting on inches. Maybe another week at most.
23 days until the bow benders are up. Gotta love the approach of opening day. Don't forget to check us out on Instagram if you are on Social Media at the current hash tags below.
#wkohunts #kyvelvetbucks #kyearlyarchery #summerbucks
More trail cams will be posted in the coming days.
8.8.16 - Temps dropped out of the 90's for a few days and even some evening temps into the high 60's for a change. The 80's was welcome during stand hanging. Most of the bucks continue to be traveling and using in some patterns that have them visible most every day at this time. A few are more inconsistent about their habits but generally using the same areas during the evening, either taking longer to arrive or a different route which seems to be more related if we are having a weather event. We expect things to stay fairly consistent over the next 2 weeks and if things are going to start changing up before the opener it usually will start happening by around the 25th or so, often when some velvet can be seen coming off, which varies from year to year.
If not already you guys hunting early best be getting those bows dialed in. Make sure the thermacells are in working order and plan to get some clothing treated with Permethrin by around the 27th.
If you check the cam section over the next day or two you will find it being updated, so there may be some blank pages, blank squares, etc.
Last but not least, for those looking for some last minute opportunity. We have a few hunts that opened up in the last week or so I have listed below.
3-day Archery September 9-10-11 (1 hunter)
3-day Archery or Crossbow October 1-2-3 (1 hunter)
2-day Youth Rife October 8-9th (1 youth under 15)
3-day Late Muzzleloader December 10-11-12th. (2 hunters)
What to expect during your hunt ---> HOW OUR HUNTS TAKE PLACE.
8.5.16 - With some stands already in place, stand plans continue to get dialed in over the next week. We have thousands of cam pics to review from the latest cam checks and will be getting some pics up on the site next week. Several good bucks in the mix and many of the ones we've been watching really started adding some inches over the last week as the bucks really getting into the final days of growth here in mid August.
Couple things for you early hunters. One, mosquitos. A wet summer and rain ever 2-3 days has the mosquito population at an all time high. No limit and No charge. Kill as many as you want. Some are reaching the size of Buzzards. Pack a thermacell or risk being packed off yourself.
Two, ticks. A lot of guys in Kentucky will not even bow hunt in September because of ticks. August is a hatch month and right now they are bad. Think spraying your clothes a week or so before you arrive with Permethrin. Higher the concentrate of it the better. Keep it off your skin though. Sawyer is one brand. Regular off, Deep Woods, etc. just doesn't cut it. Plus, you want to be as scent free as possible and permethrin usually lasts on clothes a couple weeks after treatment.
Last but not least. Know what your state allows in regards to bringing deer in from other states.. At this time Kentucky has NO confirmed cases of CWD. However, all states have different laws and regulations about transporting game from out of state.. A good source of the information is not available handily in game regulation books or a CO isn't easily accessible is by contacting a reputable taxidermist.
27 Days!
And just like that we turn the page on July. Thirty-One. That's right, 31 days and we'll have hunters in the woods. This last cam check did not involve all the properties but was a bit disappointing as bucks on cam were down. Glassing during the evenings continue to turn the bucks up, but a few of them seemed to change their travels. Could have been related to the winds and us getting one storm after another over the last week or so. Ultimately scouting will determine what has changed or we see them revert back. Often bucks ranges begin changing in August and we'll pick up new bucks, so we could have another buck or two that has entered the picture and changed the heirarchy a bit. With a few stands already in place, we'll be dialing in stand sets with scouting, glassing and cam pics from now until the season opens. We'll hand some stands that will not get hunted. Some will get moved in the few days before the season or even after it opens. Change is not only a constant of our lives, but in nature.
Those who use Instagram and want to follow, you can follow us and check it out at #wkohunts. We'll also post summer bucks to #kysummerbucks.
7.27.16 - We will be closing out the month of July and this weekend and be 34 days away from the Archery opener. Rain really continues to be the story for us this summer as we continue to have rain just about every day. Down pours. 1-2 inches at a time each day and on some days it's been a couple of different occurences within a few hours of one another. It's made field work difficult and accessing some of our bottom land gets to be a mess and has pro-longed checking cameras. Some mineral sights have been under water off and on all summer. Here and there some bean fields have taken on some damage from standing water.
Bucks are packing on the inches as they get into the final stages of antler growth over the next week or two. Usually by the end of the second week of August most have reached their potential and growth stops. It will be interesting to see how they shed this year. We'll be posting up new cam pics later this week as we go through our latest card pull.
We are also going to start using Instagram to post various images from trail cam pics, pics from the field and other images we think may be interesting. Those who use Instagram and want to follow, you can follow us and check it out at #wkohunts. We'll also post summer bucks to #kysummerbucks.
7.18.16 - One by one the days are getting crossed off the calendar. If you have not already the time is now to pull out the bow and get it tuned for the archery opener just around the corner. You don't want the buck of a lifetime to escape due to lack of preparation. Magazies, online articles and videos have beat the subject to death but practicing from an elevated postion can be a huge help when the moment arrives to release on a deer. Most of us don't and those of us who do, likely it isn't enough, but even one or two shooting sequences from 15ft is better than none. To better simulate taller heights, place your target 5-10 yards away to produce steeper shot angles.
You will find trail cam pictures updated here.
What to expect during your hunt ---> HOW OUR HUNTS TAKE PLACE.
If you are in the market for a great sounding, and good looking, custom turkey call give Dave Hawksford consideration. You can find him online at http://www.morningsunturkeycalls.com/.
We are not a big fan of texting while on stand, but this was sent from one of our hunters during one of our early November hunts.
"This guy is laying 15 yards in front of me as I type this! (Half rack young 8 point buck - 5 point now) Also have a beautiful 110 class 8 point and a hot doe laying 30 yards to my right right now! lol. All 3 have been here for an hour. I passed on a 20 yard broadside shot on the bigger buck. Trying to be patient the first morning. 😊Just 2 more points and I would have taken that shot. Watched the big buck make a scrape, rub trees and snort-wheeze. How cool is that!!! I also had a 4 point at 40 yards to my left at 6:15 this morning. Fun stuff Bill."
---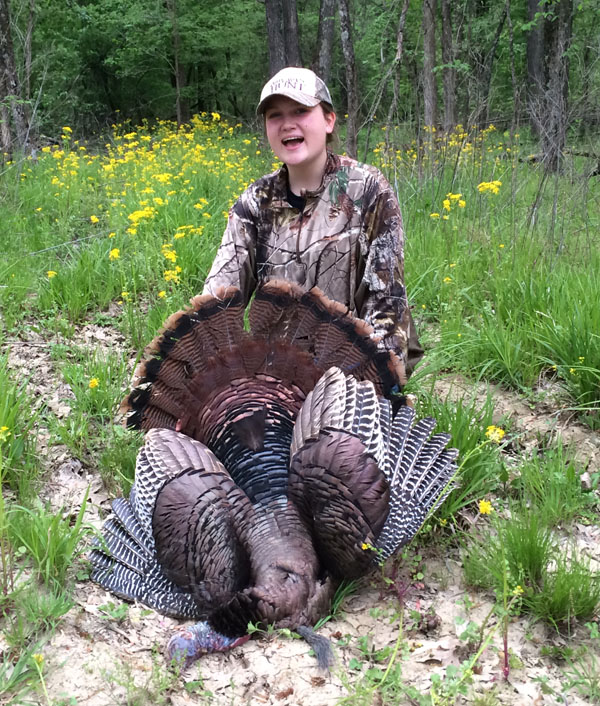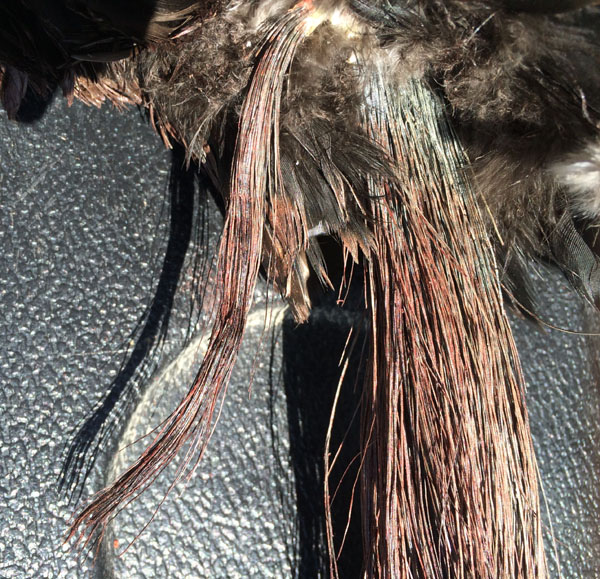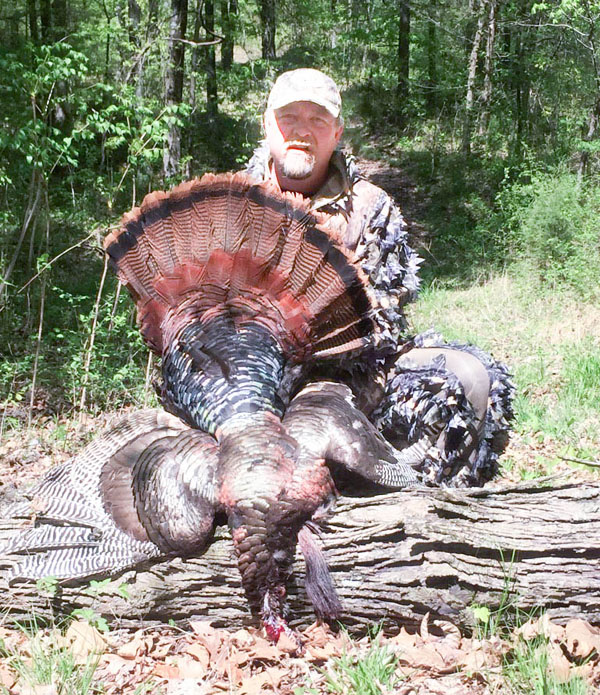 ---
We run cams 365 days per year.
---
If you are looking for help to hunt or fish in Kentucky drop us a line and see what we can put together for you. Good Hunting! wkohunts@gmail.com