Welcome to the Front Porch. Here you will find talk about what is going on with WKO and any success we've had. We use only recent photos and references from our hunts. This gives our clients an up-to-date, honest report. Check back daily, because like the seasons it will change.
---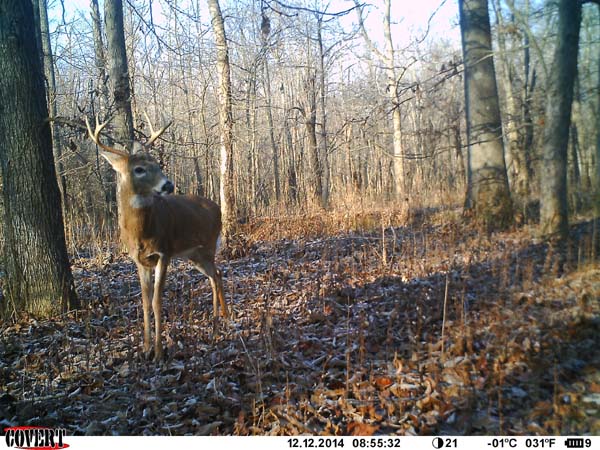 ---
TODAY's News from the Porch:
Update: 1.19.15 - What amounts to four and half months of season will come to an end when the sun sets tonight. and the 2014-15 deer season comes to a close. That's right right folks. Deer hunting will be over but the season continues for us as we begin the task of removing stands, conducting post season scouting during the winter months, check cams and tending to all the things we do to manage our deer during a time of year when most are focused on other things. So we'll continue to provide some trail cams of bucks that made it through the winter.
Right now the waterfowl hunting continues to be pretty poor. Some thawing has occured since we've seen our third day in a row of 50 degrees, but no ducks, means no ducks. We don't expect to see much change the last week of season, but we'll see what happens. At the most we may see some ducks return from the south and provide a decent day or two before season goes out. Certainly hasn't been one of the better waterfowl seasons here in West Kentucky.
With mid-January here so is the time when coyotes are on the move looking to mate. We've seen a good amount of activity in the last several days. The next month should be a good time to get after sound dogs.
Want to hunt in 2015? Now is the time as dates begin to fill. You can find what hunts we have put together for the 2015 seasons Here. If you have questions or do not see what you are interested in hit us up with an email. At this time many of the prime hunt dates are full or nearly full, pending deposits.
For a look at what to expect during your hunt ---> HOW OUR HUNTS TAKE PLACE.
1.12.15 - Waterfowl hunting turned pretty bad late last week and over the weekend. With the freeze up most ducks left our area. A few Canadas around, but mostly Snows and Specs and unless you have the field and setup they want to be in, not a good bet. With only a couple weeks left in the season I'm not sure how things will pan out, but it's not looking to favorable.
Late season archery hunting continues to have peaks and valleys. The cold temps did finally force deer on food sources. Morning activity last week was slow with most activity and opportunities coming in the evening. The lone archer we had arrive and brave out the cold had an opportunity before dark one evening on 3 bucks but by the time a decision was made to shoot, the bucks being at close range and three sets of eyes and senses done him in as he tried to draw on the biggest buck. Late season can be feast or famine. Unfortunately he had to cut his hunt short a day so we were not able to see what his last day would hold.
Spring turkey is booked. We have limited availability archery deer hunts in September and October. November archery is booked. October Youth rifle hunts are booked pending deposits. We have availability for the October and December Muzzleloader seasons at this time. We have a few spots remaining for the 2nd Rifle hunt in November.
1.7.15 - Nineteen. That would be the number of Mallards killed by 4 yesterday as Old Man winter blows his cold air into the South. As expected shallow water is starting to lock up. Keeping water open will be key to success over the next few days, possibly hunting bigger water if the puddle ducks don't pass up. This week may make the entire season.
1.6.15 - The late season archery hunt is shaping up to be a cold one. It could be just what the doctor ordered to finally force these bucks onto their feet and on food sources for the first time all winter. We'll see single digit temps for a couple days with night time lows around zero. That's right, the big 0. I know not cold for you Northerners out there, but here in Kentucky that is getting pretty darn cold.
1.5.15 - Waterfowl hunting continues to be up and down. There hasn't really been a push of new birds into the area so it's been mostly a circulation of birds that has been in and around the area. This has led to a few birds being killed here and there but not a steady kill. With the cold moving in that is likely to change. We've seen more Geese flying today than we have in the last few days which is a good sign ahead of what is sure to be the coldest temps of the winter thus far. With the cold temps comes the hard freezing water locking up, which means many birds will fly beyond us. We're hoping for a day or two of good hunts during the movement and then maybe a few days good hunting as the birds rebound back north after the cold snap subsides. Only time and mother nature will tell.
For a look at what to expect during your hunt ---> HOW OUR HUNTS TAKE PLACE.
1.2.15 - We hope everyone had a Safe and Happy New Year. We wrapped up the Youth hunt with a an unforutnate miss on a very nice buck on Saturday evening and one of the dads who was doing some bowhunting arrowing a doe for the freezer Sunday evening. Like the late Muzzleloader season the weather wasn't what we had hoped for. Much of the 2 day hunt seen rain. Temperatures were not cold either. Deer movement was not great, but good enough to see at least one shooter buck on it's feet and a few other smaller bucks up and about.
We took a few days off after the youth hunt and wrapped up the year on the water, or I should say in the water doing a little fly fishing. I'm definitely not the fly fishing type, nor do I have much experience at it so like many of you I spent quite a bit of time researching someone to help out with the effort. In my research I came across 3 guides who I felt would be worth checking into. In the end one came out on top and after my son, nephew and I spent the day with Eugene I have to say it was without a doubt the best choice I could have made. So if you are spending time in the Smoky Mountains and want to spend a day trout fishing look these guys up. http://flyfishingthesmokies.net If you have never fly fished, they will have you casting in 30-45 minutes. Did I mention they supply the gear....! Seriously, Eugene was top notch. I'm not sure you can ask for a better fishing guide.
Up next, Late Season Archery hunting. With about 17 days left in the 2014-15 deer season we have a little time left to place a tag on a buck and fill the freezer with some meat. Our best friend during this time would be some cold weather, but we'll keep playing the winter winds and playing the alternating food source game that seems to change with the winds.
---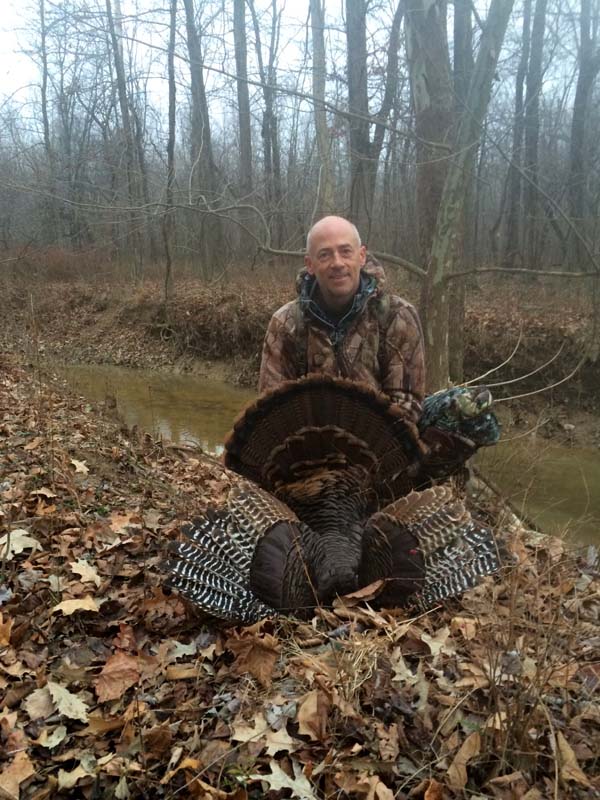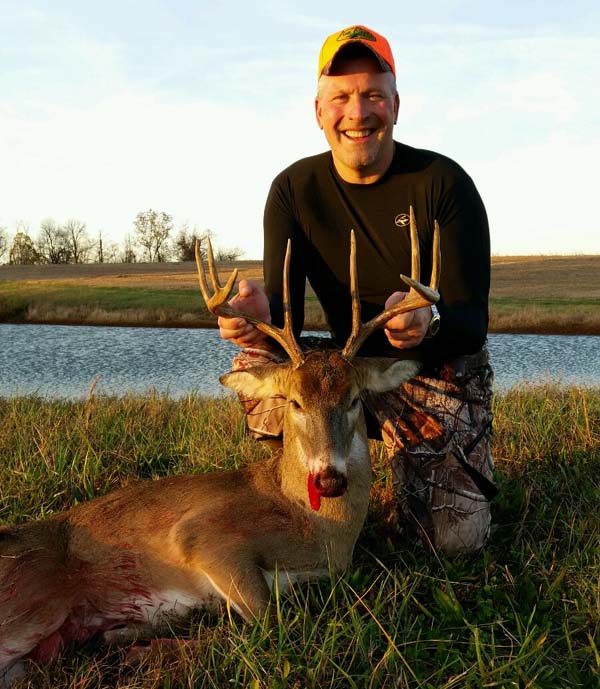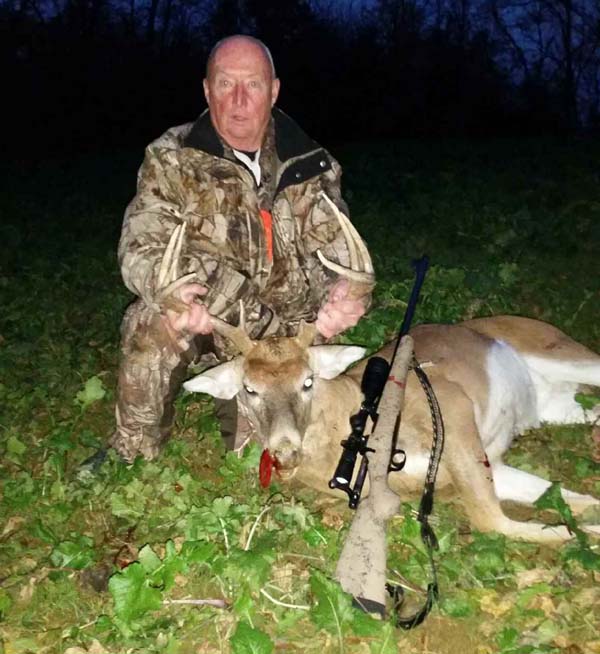 ---
We run cams 365 days per year.
---
If you are looking for help to hunt or fish in Kentucky drop us a line and see what we can put together for you. Good Hunting! wkohunts@gmail.com