Welcome to the Front Porch. Here you will find talk about what is going on with WKO and any success we've had. We use only recent photos and references from our hunts. This gives our clients an up-to-date, honest report. Check back daily, because like the seasons it will change.
---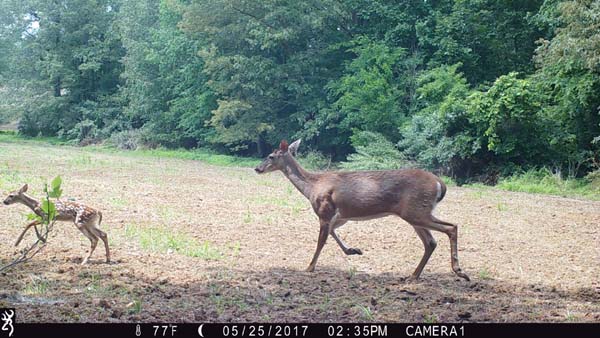 ---

Update: 6.24.17 - We've had a little cool down the last few days with the moisture coming through from the Gulf of Mexico and the deer have responded to it and showing in the fields early and staying in them later. Our fawn crop this spring has looked pretty strong so far. It's always hard to judge at first on the survival rates considering predation of newborns, but usually by the time we get around to July, most of the fawn who are still with mama tend to make it.
We'll have some trail cams to post up later this week as we begin some of our first checks of cameras having been in place and getting back to a few of the farms for the first time this month since they have been up.
We will keep the dates below open a little while longer before we shut them down. For those who have hunted with me in the past, taken trips with me and at some point in time probably asked about our elk here in Kentucky, after 20 years of Kentucky issuing Elk tags, I was selected for an Archery Bull tag. Once we complete our Early Archery season deer hunts, much of my focus will be turned to this tag and in large part is why I have not posted any hunt dates the last 3 weeks of September.
Oct-1-2-3-4: Archery or Crossbow Opener
Oct 14-15 Youth Rifle
Oct 27-28-29-30-31 Archery Pre Rut
November Rifle - 11-12-13 - 1 Opening
November Rifle - 16-17-18-19
December Muzzleloader - 9-10-11-12 - 2 Openings (3 or 4 days)
December Muzzleloader - 14-15-16-17 - 2 Openings (3 or 4 days)
What to expect during your hunt ---> HOW OUR HUNTS TAKE PLACE.
6.20.17 - We hope all the fathers out there had a great Father's Day weekend. Here in West Kentucky we got in a little rain which has been scarce on during June. Corn crops are approaching 4ft in some fields and bean fields are starting to reach 10 inches or so and attracting more and more deeer activity by the day. We continue to make progress on a couple of our leases where we are opening up some areas in to create some edges and create some additional forage during late fall and winter. Pics to come of that in a provided link as work and results progress. Once a few more of these bean fields jump up in growth we'll have all of our cams fully deployed and taking pics where you can expect regular posts in the trail cam section.
6.7.17 - Here we are into the first week of June, buck antlers are branching out, corn fields are approaching 2ft in height and we've had some beans in the ground since just prior to Memorial weekend, with other farmers just getting back into the fields and prepping for planting in the next 2-3 weeks. We've put to bed our last lease renewal required for the year and beginning to focus on some property management and strategies for our fall deer hunts. We've not fully deployed all of our trail cams at this point but we'll have them in full swing by the end of next week with supplemental feed and mineral sites replenished.
We still have a few hunt dates open which can be seen below if there is interest. We'll keep some of the hunt dates open for a few more weeks and if they do not book, we'll repurpose the dates into other hunts such as Waterfowl or Fall Turkey.
What to expect during your hunt ---> HOW OUR HUNTS TAKE PLACE
5.26.17 - We hope everyone remembers families and friends on the upcoming Memorial Day. If you are in the woods or on the water over the long weekend, be Safe! And if you have a chance, we encourage you to introduce a kid to the outdoors. Camping, Fishing, Hunting; it doesn't matter. All three leaves an impression that lasts a life time. Just remeber, Keep it Safe. Keep it Fun!
It's getting to check in on Food Plots, assess some bush hogging needs and begin looking at rolling out the rest of our trail camera arsenal next week, not to mention we'll be able to start back up some supplemental feeding as our feed ban is lifted come June 1st. We'll also be taking to the water for some fishing, and always exciting Bowfishing! Check back for updates as we start running cams and taking inventory on how our bucks are shaping up for this Fall.
5.25.17 - Been a bit since our last update here on the Front Porch. We swung through our Spring hunts in the west and was met by Mother Nature in a pretty big way. Rain, sleet, snow and wind to name a few of the elements that made this years trip more of a challenge. In the end we did see everyone have success and tag at least one of their birds, most everyone tagging both and a couple tagging out with three. Rain made it difficult to access some properties, while temperatures dipped into the 30's at night and on Saturday remained there for the duration of the day. Gobbling was at a minimum and activity in the driving rain, sleet and snow in general was not great. As the weather broke and temps climbed, the gobble picked back up and birds began to fall as we have come to expect on this swing out west.
If you are interested in hunting deer in Kentucky, below is a list of currently available deer hunts for this fall. In most cases we can setup any length of hunt, as well as, different hunt dates than listed if you the dates listed do not work for you. Email or give us a call to inquire.
5.9.17 - I would like to Thank Everyone who hunted with us this year and made this such a successful Spring!
We wrapped up the 2017 Spring turkey season here in Kentucky with a successful hunt to close out the season with 100 percent success. The 2 day hunt was one of our more challenging hunts following 3 straight days of wind and rain. There would be no opportunity on Saturday after a couple birds gobbled early from roost. A mid afternoon gobbler some how slipped around us with a good wind and rain showers having popped up mid afternoon. We closed out the hunt by roosting a few birds not knowing what they were. On Sunday birds gobbled good and often where we started out. It seemed like one rookie mistake after another was doing us in. Even though most was typical turkey hunting, birds being closer than it sounded. Calling and not allowing time for a bird that went silent to show up. Slipping around trying to get a shock gobble and running into a bird that was well on his way right to you.
At that point I was like, 3 strikes, we're out. We relocated to another farm where after walking 150 yards from the trucking and some cutting on a mouth call, we spotted 3 gobblers moving to us. Grabbing our gear we relocated for a setup, but the birds had moved off, gobbling from another woodlot. A quick move and we were in business. Only the birds went silent and now we had a bird gobbling from the spot we just had left calling from. We quickly pulled up and changed our setup moving around 150 yards putting us 125-150 yards from the bird. The bird gobbled at a few calls and we shut up. He also went silent. After a short while, I called, no answer. Hunter called, no answer. We kept put. Within about 10 minutes I caught the bird coming over a saddle in the field in half strut. I called to say 'here I am', he gobbled and went into half strut and came over the hill, turned and began feeding. Scratching in the leaves he went into half strut and looked our way. In the end he either seen something he did not like, realized 'there's no hen there', or seen movement. He turned and started back up the hill. It was now or never and told the hunter if he was going to shoot he needed to shoot. The bird dropped on BOOM! He tried making it to his feet while flopping about so a follow up shot was needed to finish him off.
We have hunts being booked for the 2018 Spring turkey season now. Based on past tradition, the 2018 Spring turkey season should be set to open Saturday, April 14th. If you would like to hunt turkey with us next Spring, call or send us an email with the Subject line of 2018 Spring Turkey.
What to expect during your hunt ---> HOW OUR HUNTS TAKE PLACE.
If you are looking for a custom call this spring, give these calls a look. They are great sounding, and good looking, custom turkey calls. I've owned them for a couple years now and have put both Spring and Fall gobblers down with them. Give Dave Hawksford consideration if you are in the market for a custom turkey call. You can find him online at http://www.morningsunturkeycalls.com/.
5.2.17 - So far it's been a great Spring despite some challenging weather that seems to occur every other day we step out the door to take chase after birds. Our last hunt we got it done on day 2 of the 3 day hunt on a vocal bird that gobbled well on the limb. He hit the ground went silent for us to have a 2nd bird fire up to our right within 70-80 yards. He stayed hot but held his position. Going silent and some leaf scratching done him in and Carl sealed the deal at around 45 yards on a good bird.
Weather, in rain and water has dominated the last week of hunting. Not to mention some wind. Its made some of the morning hunts start quiet and taken a while for some of the birds to get hot. Other mornings we've found some vocal birds and worked them off the limb to the gun, closing the deal and a couple living to be hunted another day.
We'll wrap up the final 5 days of season with rain in the forecast 3 of the 5 days. Cooler temps have hung around as has the wind. We hope to finish the season here in Kentucky at 100%, but turkey being turkey, it can be something different every day. Thus the reason most everyone loves to hunt them, the Challenge.
4.26.17 - We've continued the current Spring streak with another bird down. A great morning of gobbling on 4/25 that led up into mid morning. Aggressive calling out of a combination of a diaphram and slate seemed to be the key and ticket to get the birds to commit and produced non-stop gobbling while they closed the 400 yards or so to gun. Some leaf scratching mixed in once the birds were under 45 yards helped.
We have some weather in the forecast that may produce some unfavorable conditions and a lot of rain between Thursday and Monday. We've killed a lot of birds in rain, including some heavy storms, but storms and wind always make for a tough hunt. If you have turkey hunted long enough though, you know those breaks in rain and some lapse in wind can make for a great time to get after a bird or get one fired up. Rubber boots and wet suits may be the key to success on our upcoming hunt.
4.24.17 - We closed the book on another successful hunt over the weekend. A fairly quick hunt on Saturday morning put a bird down at 6:44. After 9 hens had flown down and 2 gobblers in the field with them, another one gobbling his head off from the timber and a fourth had gobbled to our north a couple times, we had a couple of toms run into our decoy set and beat up on the jake. This caught the attention of the boss tom with the hens who went into strut and started closing the 80-90 yard gap we had. The action at the decoy was just to much by the dancing duo and once we had one clear and his head up from some calling, the load of shot hammered him to the ground. Rain and wind dominated the morning. It briefly let up then continued for most of the day. During mid day we found a bird in a field and after some cuts got his attention, he was on his way. He stopped a couple of times to scope out the situation, but some clucks and purrs kept him on a rope. It took a total of 3-4 minutes for him to cover 175-200 yards and he to went down for the count.
Cool temps prevailed with lows in the 40's both Saturday and Sunday. Sunday was a bit rougher with a low of 42 at dawn with some wind, which we seen hit 25mph at times and rained off and on. There was some light roost gobbling, but very few birds. No hen talk and little activity seen.
At this time we are 100% for the season. So far our biggest factor has been changes in weather. We've dealt with a few henned up birds, but that is beginning to take care of itself as hens are starting to sit more and more leaving the toms to themselves later in the morning and afternoons. We'll see if we can continue our streak this week. We'll try to provide some updates daily if time allows. Good luck if you are hunting!
4.20.17 - The gobble was back on this morning. Several birds gobbled well into mid morning. The plan put into play did not work out off the roost, as the birds did a 180 from Wednesday and were not playing well with others.
For our deer hunters, it was a mild winter to say the least. Probably one of the warmest winters on record and I believe we had the least amount of snow on record than any year recorded in modern times, 0.7", which means the deer did not have to go through any lean times with food sources. With adequate rain and early warming trends, vegetation has gotten off to a good start, as has food plots. Local agriculture has been working the fields for a few weeks now and most large farm operations already have a good portion, if not all of their corn planted in rows now and off to a good start with the rain we've seen mixed in with sun and warmer temps over the last 7 days. Trail cams being checked here and there for turkey activity has revealed several bucks with 4-5" of antler growth. We have yet to set eyes on any bucks still packing antler from last fall, which isn't uncommon to see while turkey hunting the spring in Kentucky.
---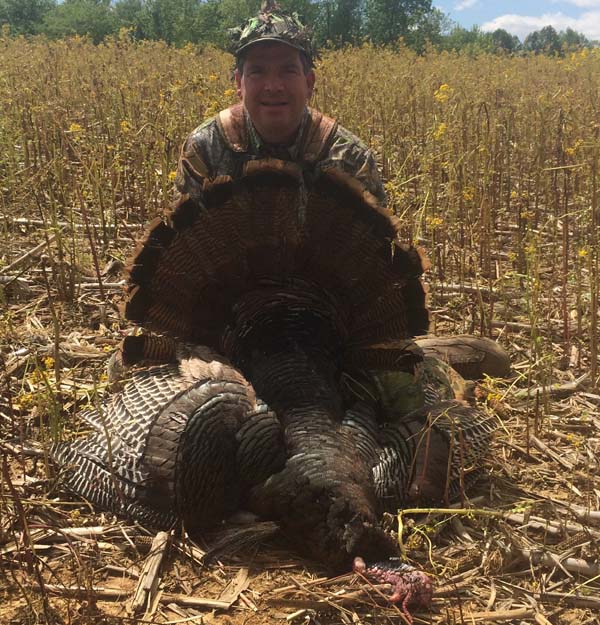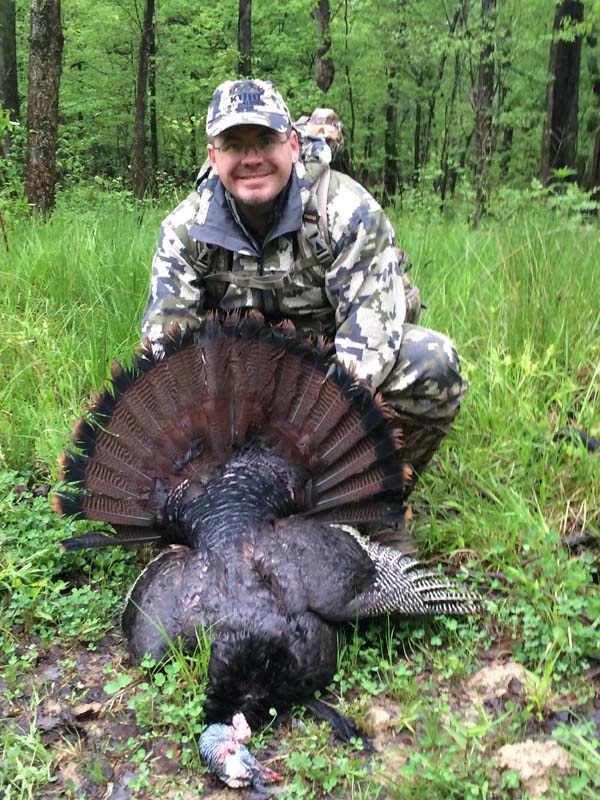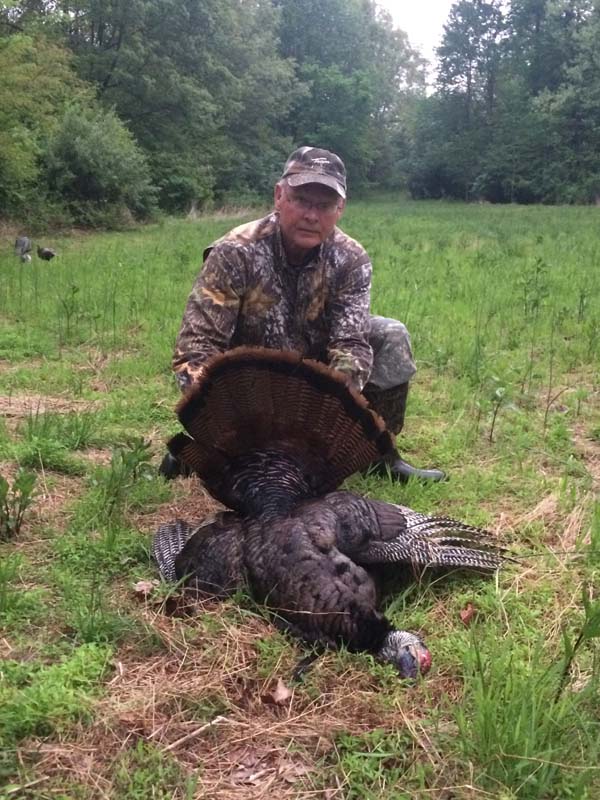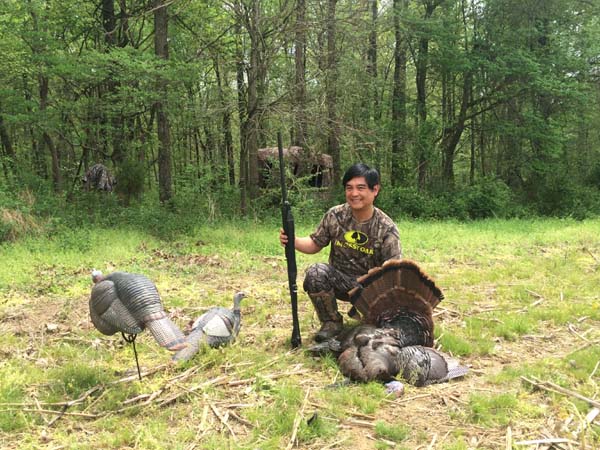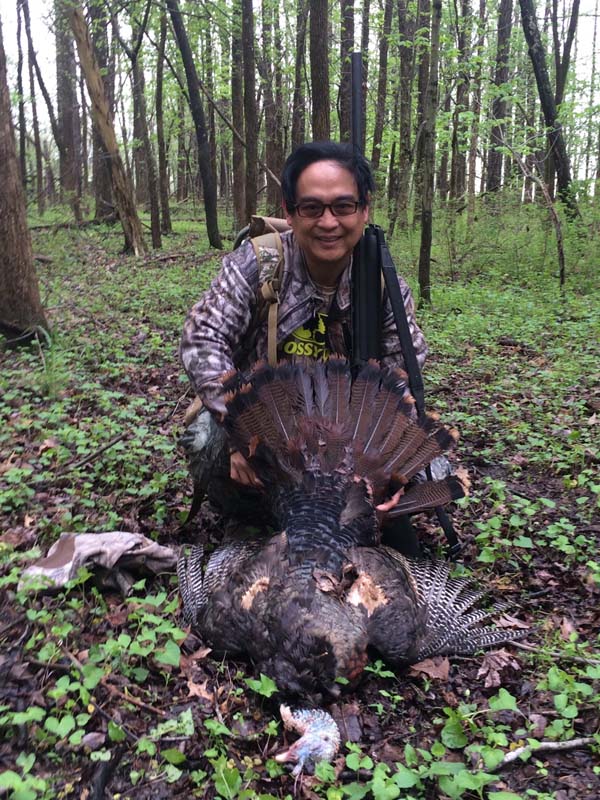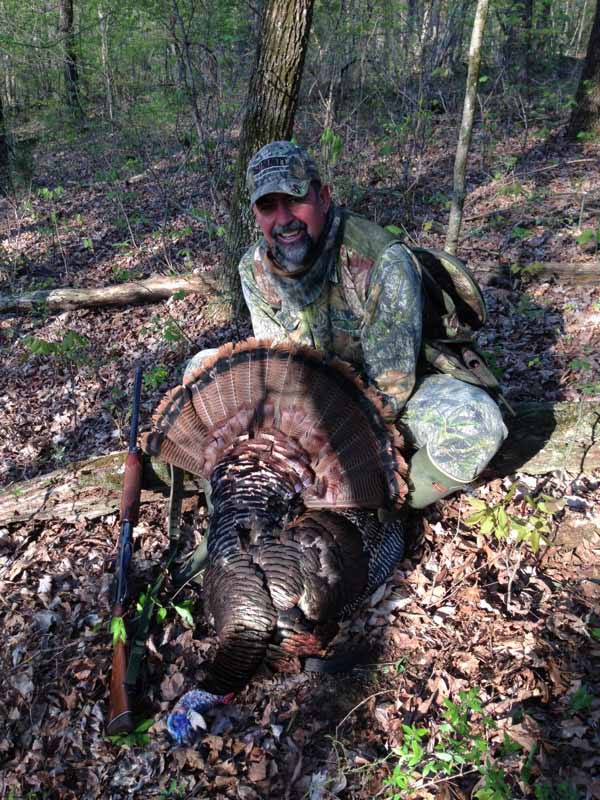 ---
We run cams 365 days per year.
---
If you are looking for help to hunt or fish in Kentucky drop us a line and see what we can put together for you. Good Hunting! wkohunts@gmail.com