Welcome to the Front Porch. Here you will find talk about what is going on with WKO and any success we've had. We use only recent photos and references from our hunts. This gives our clients an up-to-date, honest report. Check back daily, because like the seasons it will change.
---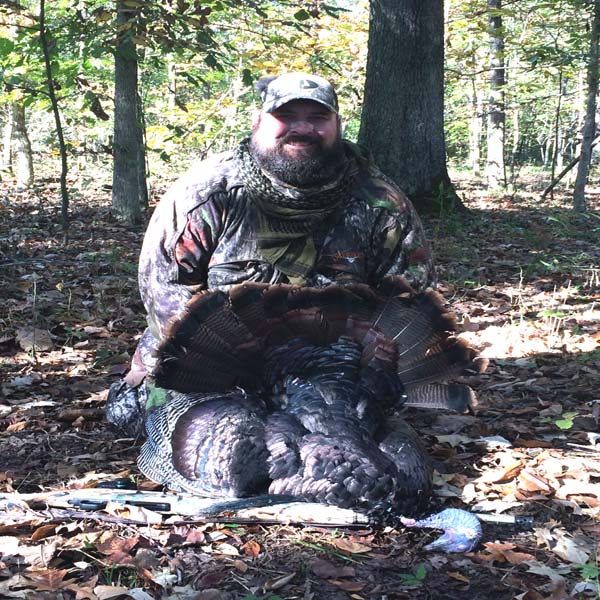 ---

Update: 10.25.16 - 46 and on the cool side with some moisture in the air this morning. Definitely feeling more like deer season than last week. The forecast over the next 10 days looks to be seasonable with some days being on the warm side into the mid 70's. Hopefully we'll see this change at some point as we do not see any temps forecasted 10 days out that even begin to flirt with 30's at night. Some precepitation exists in the forecast but it does not appear like any major rain. We do need and want the coolest temps to support the best action over the next week to 10 days of hunting.
Updates have been made to trail cam section with more on the way. As mentioned we'll have a button here on the Front Porch for November Cam Pics beginning next week that will be direct link to most recent pics that we post.
10.24.16 - The Fall Shotgun opener for turkey seen success with a nice Fall gobbler folding on the 2nd morning. 11" beard, 1 1/4" spurs and right at 22lbs. By the time the late segment rolls around, with the groceries on the ground these birds should really be fattened up. Saturday was pretty uneventful. Not sure if it was the shock of temps dipping into the 30's or what, but not one group of birds we'd had scouted did what they had been doing for the past 2 weeks or even the last 3-4 days. Sunday was a little warmer and although birds did not show early, about mid-morning we had one of the loan gobblers watched during the week turn up under some oaks and that is all it took. 23 yards.
Also with the cool down deer activity sky-rocketed. From the turkey blind we watched no less than 19 deer off and on, 7 were bucks with a little chasing going on. Scrapes opened up, new ones turned up and a couple decent bucks were fighting in front of one camera. Sunday morning we actually watched a couple bucks fighting and then some hint of chasing going on as one of the bucks tried nosing several of the 6 does feeding on acorns around. As is the case this time of year, we should begin to see more and more daylight activity by bucks with better and better bucks staying active during shooting light. On days we have the coolest temps, the better deer activity will result. The coldest nights will support some of the better mornings to be on stand in the coming days as well.
We've had a few ask about updates. This time of year gets tough to be in front of a computer much, but we will try to get caught up with recent cam updates this week. Going forward we will have Fixed link here on the Front Porch for November Cam pictures and where we will post some of the better pics we have versus an abundance which can be time consuming. We'll also post any harvests down below under Recent Success.
What to expect during your hunt ---> HOW OUR HUNTS TAKE PLACE.
10.20.16 - The first segment of fall shotgun turkey season opens on Saturday and we should have the bead on a couple of birds that morning.
First we need to recap the Muzzleloader hunt last weekend which can be summed up in 4 words, Full Moon, Warm, Wind. Mid 80's ruled both days, as did fairly stiff winds by mid morning that blew the entire day. Outside of some doe movement, a little movement by smaller bucks, we just didn't see any showing of bigger bucks. Two shooter type bucks were only seen and those were glances after being spooked while making a wrong move on stand or in a blind. We did have a couple does taken for the freezer, but no buck killed.
We've been unseasonably warm. It's been on the dry side as well. We should see some cool down the next few days, but the 10 day forecase even has our first pre-rut bow hunt starting out a bit warm. We want the coolest temps possible from here on out, for any day we are hunting for best activity.
Bean fields have been getting cut, however there will be many still standing come November. Even mid November. Scrapes are showing up on a regular basis with many being visited but not daily. In a matter of 3-4 days we'll start seeing things change, as we are with the trees changing colors and beginning to lose foilage.
What to expect during your hunt ---> HOW OUR HUNTS TAKE PLACE.
10.12.16 - Clouds and rain moved in today then out and left some over cast skies and cooler temps. I suspect with the moon becoming bright and the moon transit being what it is, there will be some deer on their feet this evening.
We've posted up projected dates and prices for 2017 hunts. We have already have some hunters on the calendar for 2017 and have been fielding calls and emails. For no other reason but to shift hunting and resources to what our passion is, Bowhunting, we are considering reducing the amount of Rifle hunts in 2017. Adding additional archery hunting leading into the rifle season, which often provides some of the best action and is a time when we may go a day, two or something three without a bowhunter in a tree. If we make this change and you want a rifle hunt with us, you definitely want to book it early this year.
What to expect during your hunt ---> HOW OUR HUNTS TAKE PLACE.
10.11.12 - The youth weekend was windy on Saturday and warmed up quite a bit both days. Saturday movement was a little slow but we seen a first time bow kill by one of our youth hunters brothers which is always a great accomplishment and one that a bow hunter never forgets. The last hour on Saturday proved to be active with one youth watching 11 does at different times some walking right beneath him. While his sibling watched a few does and 4pt in a clover plot that he chose to let walk. Sunday was a short day as everyone hit the road early to get back home at a decent hour. With a morning temp of 46 and virtually no wind deer activity was up. We had a couple bucks that escaped being found in the scope, as did a few days. And our arrow slinger kept his patience for a buck and allowed several does pass during his sit. A great weekend as always. Especially when you have kids hunting that want to be hunting. Eager to learn about it and ask questions to fuel their learning.
We have began to see some scrapes turn up in the last few days. With cams in place we'll measure how the rut activity progresses over the next couple weeks but generally around the 23rd buck activity during the day begins increasing more and more.
The smoke poles come out next as Muzzleloader season opens the 15th. Temps and wind will be the 2 variables to watch for this hunt. Warmth usually shuts movement out of the more mature bucks down to dark and first light if not nearly all nocturnal. Acorns continue to be a key food source. We're also seeing deer spending time on the earlier cut corn fields and eating on some of the volunteer corn coming up.
10.7.16 - Next up is Youth rifle. Always a good time and a fun hunt we enjoy to put on. Looking forward to the enthusiasm and smiles.
10.6.16 - Still a couple days away from the Youth hunts prep is in play. We'll have a few less on stand this year due to cancellation but we're still hoping to see a nice buck hit the ground.
We've updated hunt dates for 2017 which can be found HERE. Probably the most notable thing abuot 2017 is the 2-day Muzzleloader hunt in October will fall much later in the month which usually spells better buck activity as we inch closer to the rut and see more pre-rut activity going happening. If you are interested in hunting with us in 2017 the prime hunt dates normally book between December and the end of January. A few prime spots will linger some years into February. The dates posted are dates we feel will provide the best opportunity.
If you are in the market for a great sounding, and good looking, custom turkey call give Dave Hawksford consideration. You can find him online at http://www.morningsunturkeycalls.com/.
We are not a big fan of texting while on stand, but this was sent from one of our hunters during one of our early November hunts.
"This guy is laying 15 yards in front of me as I type this! (Half rack young 8 point buck - 5 point now) Also have a beautiful 110 class 8 point and a hot doe laying 30 yards to my right right now! lol. All 3 have been here for an hour. I passed on a 20 yard broadside shot on the bigger buck. Trying to be patient the first morning. 😊Just 2 more points and I would have taken that shot. Watched the big buck make a scrape, rub trees and snort-wheeze. How cool is that!!! I also had a 4 point at 40 yards to my left at 6:15 this morning. Fun stuff Bill."
---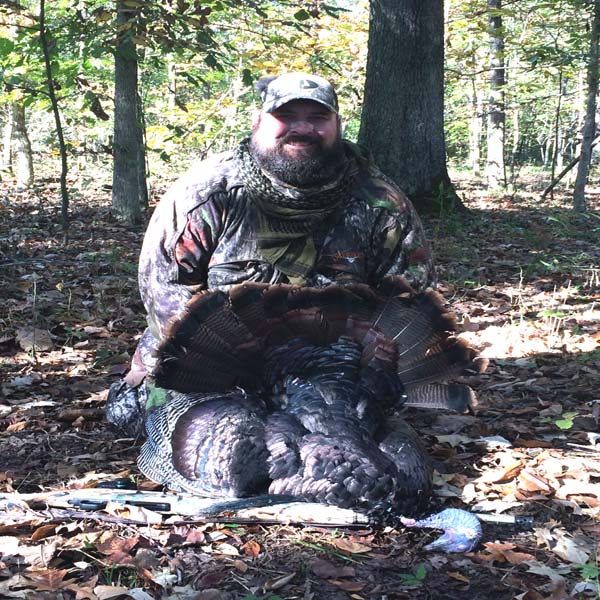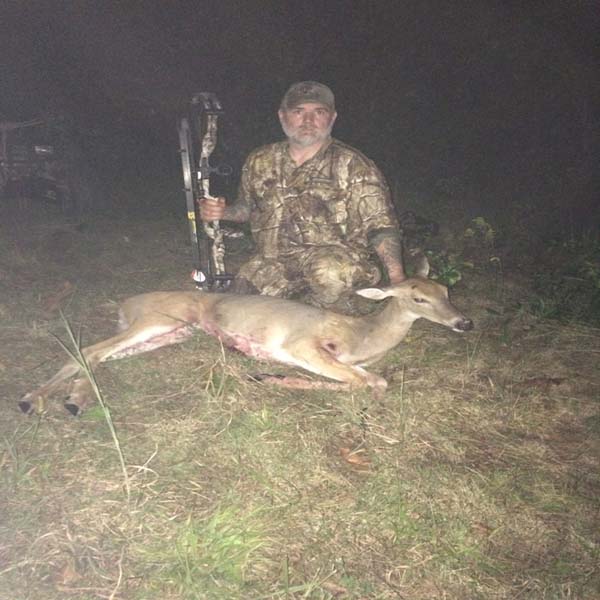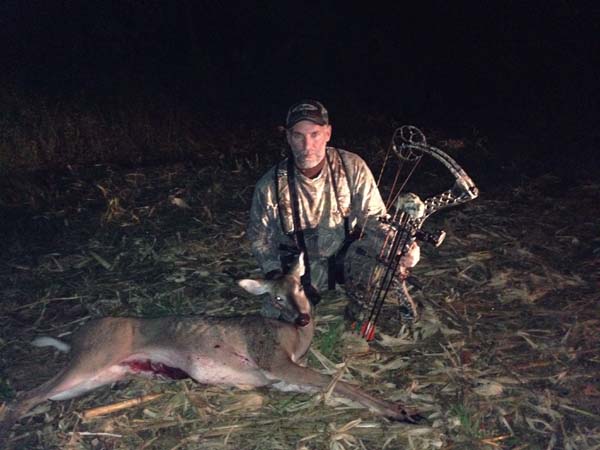 ---
We run cams 365 days per year.
---
If you are looking for help to hunt or fish in Kentucky drop us a line and see what we can put together for you. Good Hunting! wkohunts@gmail.com