Welcome to the Front Porch. Here you will find talk about what is going on with WKO and any success we've had. We use only recent photos and references from our hunts. This gives our clients an up-to-date, honest report. Check back daily, because like the seasons it will change.
---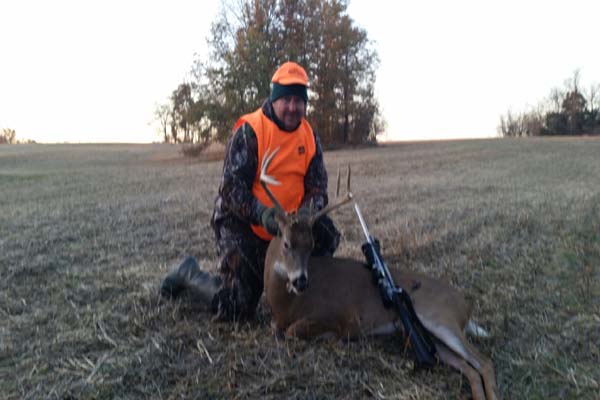 Killed on the 6th day of season.
---
TODAY's News from the Porch:
Update: 11.25.14 - You can find what hunts we have put together for the 2015 seasons Here. As always we limit our hunts and do not run a hunter mill. Our hunts book fast so if you want to hunt with us, it's best to get with us as soon as you think or know you want to do a hunt. We'll be communicating with our 2014 hunters who have expressed a desire to return in 2015 which will further reduce the number of hunts available to book in 2015.
For the remainder of 2014 we have a couple opening weekend Muzzleloader hunts and some late season archery dates. The muzzleloader hunt can be good if the weather is cold and there is a possibility to catch some 2nd rut. If it's warm, buck movement will not be that great. Same for the late archery. If temps are cold and forcing deer on food sources action can be good to great, but if warm the hunting can be pretty slow. We like to be as black and white as we can about what we have to offer.
Up next we have the opening of the waterfowl season on Thanksgiving morning. Duck numbers do not look to be all that great at this time, but I'm sure we'll manage some birds. No big numbers of geese around yet, a few but most are resident birds. Check back next week to find out how the opening hunts faired.
If you are interested in a predator hunt we will be setting most of these up to take place once we've concluded are deer hunts, which puts most of the predator action from January-March. Bobcat hunting is confided to January and Febraury (furbearer season).
We'd like to thank everyone who has hunted with us in 2014 and those who will be arriving soon. We appreciate the opportunity to hunt with you and share in your outdoor experience. We also want to thank everyone who has hunted with us in the past who's experience continues to help support our future as well as those of you considering hunts with us in the upcoming year. Good Hunting!!!
11.21.14 - It's been a while since our last update. We've had a lot of action in the woods over the last couple of weeks and seen some good bucks hit the ground. We also seen a few guys go home empty handed after either passing up bucks early, having unfortunate misses and a couple hunters simply not having the opportuntiy at what we or they for that matter, considered a shooter buck. We also seen some doe management practiced over the rifle hunts which we encourage when we can and it makes sense.
The 2014 Kentucky rifle season is winding down and will come to a close on Sunday in Zone 1 and 2 counties. Part of our overall plan and management has always been hunting the first 9-10 days and not the full 16 day rifle season. We've made a few exceptions for father/son/daughter hunts or simply for a small group that could not be here any other time. As you get past the first 10 days of season the rut is usually on the downhill swing, pressure has become a factor and at the end of the day, hunting the last weekend isn't the same experience as hunting the first or second weekends. So we've always shut it down on day 10, give the deer a break and let them get back into some more normal patterns. This has worked well for us going into late season archery and muzzleloader hunts as the deer see no pressure for what will be 26 days this year on any of our farms. This is where our late season food plots come into play and we'll also turn up the feeders once again.
Below is dates for the upcoming Late Muzzleloader season.
Kentucky Muzzleloader

December 13-21st (4 openings)

2Days: $500

3Days: $600

4Days $750

We have already begain booking for the 2015 season. We will finish looking at the 2015 calendar and moon phases over the weekend and will publish our 2015 proposed hunt dates next week. Early Sept. Oct Muzzleloader, archery rut and our rifle hunts book fast with most dates gone by mid to late January as reference.
If you hunted with us this year and voiced interest in returning in 2015 you will see an email from us in the next week asking to confirm your intentions to book.
For a look at what to expect during your hunt ---> HOW OUR HUNTS TAKE PLACE.
11.7.14 - The 2014 Rifle season opens tomorrow morning with rut activity varying from day to day. Untl the next two weeks pass will we really know what type of rut we've had. So far we've seen good rut action, while the next day not even a hint. Pretty typical and not uncommon to say the least. With the moon bright we may see a lot of the activity under darkness, but any time there is a hot doe on her feet there are sure to be bucks close and moving. Weather for the opener is calling for chances of some rain early, winds up to 20mph and temps into the mid 50's. Much of the first 10 days temps look to be mostly normal with a few rain chances here and there with the second weekend possibly looking wet.
Check back some time during the week of November 20th for an update on the rifle season, success photos and to view our hunt dates for the 2015 Deer hunting season. We'll also be working on providing some updated trail cam photos from scrape action, as well as, video.
11.5.14 - The rut is heating up. We're see a little more rutting activity by the day and few better bucks starting to show. Still some nocturnal nature to more of the better bucks but things are beginning to shift at a pretty good clip. Of course we're right on verge of the moon being full, but this time of year it becomes all about the does.
11.4.14 - Archery hunts are wrapping up this week heading into the Rifle opener on the 8th. The bow hunting action has been up and down, along with temperatures, wind and weather. Been a bit of a roller coaster. And with the wind approaching 30+ one afternoon one of our hunters felt he was on an amusement ride.
Just today have we really seen multiple bucks dogging does. Several bucks have been moving and seen cruising, but there really has not been any hard core chasing as of today. To date a doe and buck have hit the ground with archery hunts wrapping up tomorrow. Rain has set in this afternoon with some wind out of the south. It will be interesting to see how the afternoon unfolds.
For a look at what to expect during your hunt ---> HOW OUR HUNTS TAKE PLACE.
---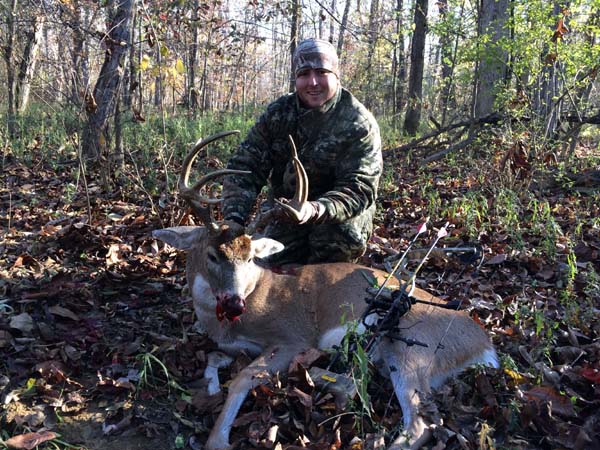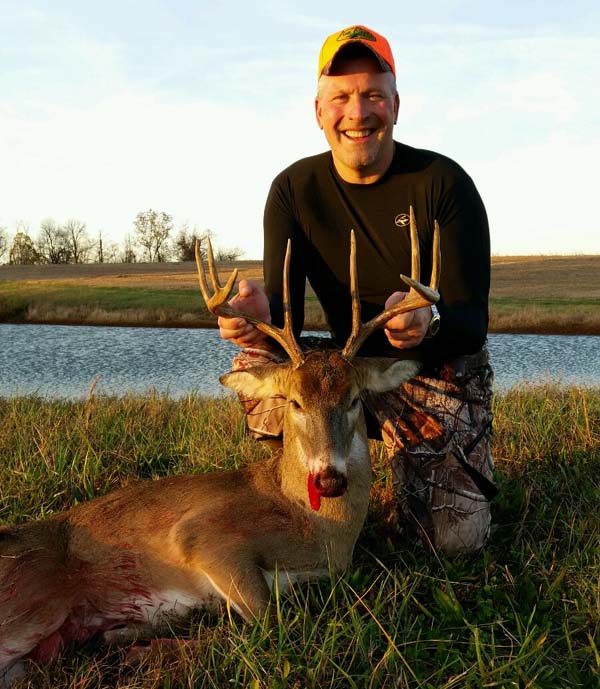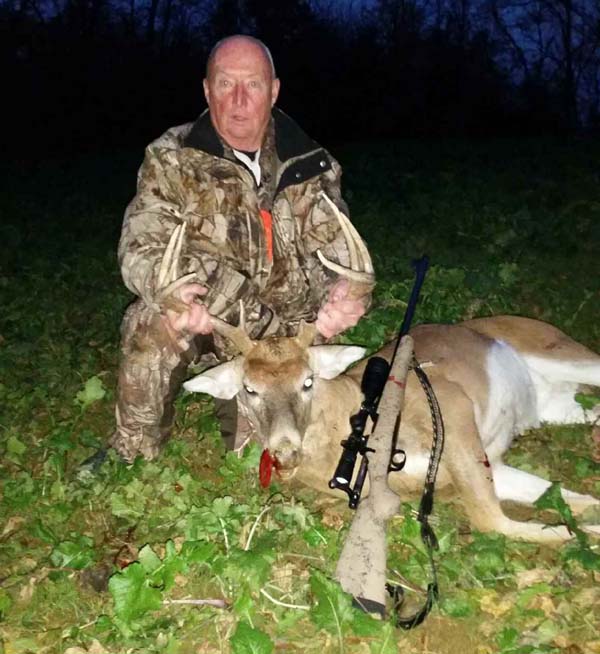 ---
We run cams 365 days per year.
---
If you are looking for help to hunt or fish in Kentucky drop us a line and see what we can put together for you. Good Hunting! wkohunts@gmail.com