Welcome to the Front Porch. Here you will find talk about what is going on with WKO and any success we've had. We use only recent photos and references from our hunts. This gives our clients an up-to-date, honest report. Check back daily, because like the seasons it will change.
---
---
TODAY's News from the Porch:
Update: 6.25.15 - We will be taking time off over the next week or so and will have limited access to emails and phone calls. We will respond to all calls and emails at our earliest convenience. We hope everyone enjoys a safe 4th of July. Don't lose your trigger finger! If you are on the water over the 4th, keep it safe! And if your time on the water involves Fishing, think about taking a kid. All the better is a kid that has limited or no access to the outdoors. Fishing is something that can and will leave a life-time impression on them. Why not be the person that helps leave that impression...?
6.22.15 - We hope all the dads out there enjoyed a great Father's Day. We are taking some time off next week. We should be back into full swing the first full week of July and should have some cam pics to start posting up. We have a couple bean fields that are getting some height to them and starting to leaf out a bit while our other fields should be getting planted in the next 10-12 days depending on ground moisture.
Bowfishing has been pretty good and decent at other times. As the summer heat comes on strong most daylight shooting will be early or very late in the day. If you have never tried it, don't have the equipment and would like to give it a whirl, drop us an email or call.
6.16.15 - The dog days of summer are beginning to show up here in West Kentucky. At this point in Spring we have been pretty good on rainfall. Actually too wet during early Spring. Corn has been drilled for several weeks now and much of it approaching a couple feet high now. Some beans planted last week but the majority will be seeded later this month. With spring having been wet there is a lot of lush vegetation creating browse right now. For the most part most all does have dropped their fawns. Antlers are starting to take on some shape and it won't be too long before we start posting up some cam pictures.
Archery - October 2nd-4th (Crossbow Open)
Muzzleloader - October 17/18th and December 12-20th.
Rifle - 2 Cancellations for November 16-17-18
Youth Rifle- October 10/11th and December 26/27th.
What to expect during your hunt ---> HOW OUR HUNTS TAKE PLACE.
6.3.15 - I would like to thank everyone, past and present, who has hunted with us, contacted us or we've helped out hunting in other states over the years. Many of you have hunted with us dating back 12+years now. I talk to many of our past clients on a regular basis. Some will call us up to talk hunting, about another outfitter or trip out of state they are planning for. This means a lot to us. I had such a call and conversation last night.
Not everyone who hunts with us will be successful. Some have success early in their hunt, while other hunts may go down to the wire before a kill is made. In all cases we work hard to put a deer, turkey or waterfowl in front of you. Much of this work is done before you arrive and regularly continues throughout your hunt to help insure you have the best opportunity while here. We understand everyone wants to have success. We understand everyone wants to kill the biggest buck possible. We are hunters ourselves and know the highs and lows of hunting, including guided hunts.
We only have a few dates open this fall and that is a reflection of the trust everyone has put into us over the years. We have always been black and white about what we offer and that is something that will never change. We cannot guarantee anyone a kill. We cannot guarantee that you will even see a shooter buck or that you will see X amount of deer per day. But I will tell you we work hard to make it happen for you.
5.29.15 - It's hard to tell where the first 5 months of the year have went, but they are gone. June brings on quite a bit of Antler growth for our bucks. With that we will begin setting the bulk of our trail cams over the next 2-3 weeks. Ones our bean fields begin taking shape and summer patterns emerge we will be posting up cam picks throughout the summer. Our first fawns of the year have also began dropping with the bulk likely to be born over the next 7-10 days.
5.28.15- If you are looking for a deer hunt this fall, below are openings we currently have published hunt dates. If you are looking for something specific like a combination hunt, if you are going to be in the area and looking for a quick hunt or some other situations, don't hesitate to drop us an email or call. We'd be glad to let you know what we can do to meet your needs.
5.21.15 - Once again Midwest hunting was good to us and always nice to hang up your turkey vest on a good note. Although we dealt with henned up birds, Birds gobbled hard and often. Unlike our home Eastern birds, hunting birds that will gobble all day is a nice change of pace. We seen birds killed early, mid-morning, mid-afternoon and before fly up. The number of jakes was mind boggling and more often than not we seen jakes intercept our hunts and run long beards off. Next season should be nothing short of phenominal with the number of jakes we encountered on every spot we hunted. Next up we'll be tackling some bowfishing and property work. Bucks are putting the inches on already so we'll be getting more of our trail cams set in the coming weeks as well.
If you are in the market for a great sounding, and good looking, custom turkey call give Dave Hawksford consideration. You can find him online at http://www.morningsunturkeycalls.com/.
For an idea of what to expect take a look at this page---> HOW OUR HUNTS TAKE PLACE.
---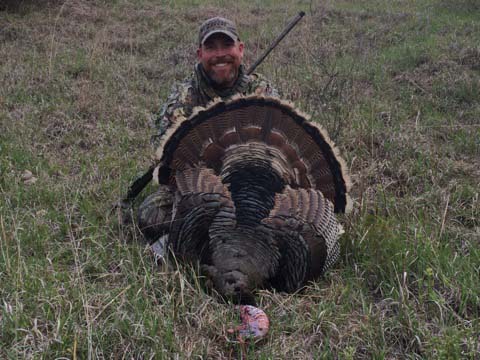 ---
We run cams 365 days per year.
---
If you are looking for help to hunt or fish in Kentucky drop us a line and see what we can put together for you. Good Hunting! wkohunts@gmail.com