Welcome to the Front Porch. Here you will find talk about what is going on with WKO and any success we've had. We use only recent photos and references from our hunts. This gives our clients an up-to-date, honest report. Check back daily, because like the seasons it will change.
---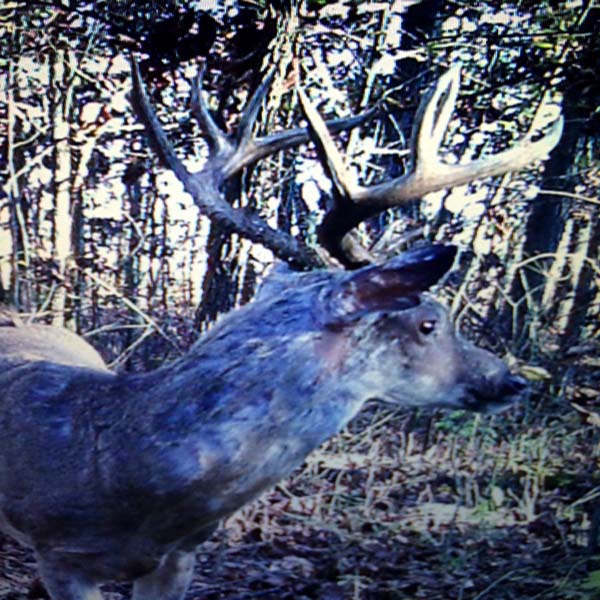 ---

Update: 11.25.16 - Thanks to everyone who had emailed, text or called wishing my family, guides and I a Happy Thanksgiving. Much appreciated. We Hope everyone had a Great Thanksgiving. Thanksgiving marks the Waterfowl season opening here in Kentucky. Often it can be good, other times not so great. This year it was not so great. With unseasonably warm temperatures all fall, being extremely dry and not much different happening north of us we just didn't have many ducks around. Wood ducks and a few teal seemed to make up most of the flights and normally your not working these birds but pass shooting. For most, the flight and shoot was over by 7:30a.m. For me, I ususally take the morning to spend time with my kids afield whether it's for deer, ducks or small game. This year we spent the morning trying to fill my youngest son's buck tag. Often my toughest client, things worked out and he was able to kill a nice symmetrical 8pt.
With the forecast, ducks will not do well over the next few days. But we'll keep at it with those here. We'll also be getting back to chores and getting feeders turned up, trail cams repositioned and stands moved and some new stands and blinds put into place for the upcoming muzzleloader and late season archery hunts.
If you are thinking about hunting with us in 2017 the prime hunt dates will book from now until mid to late January. Some may make it into the month of February, but it will be few and most will be spots for 1 or 2 hunters. Book early for the best dates.
11.23.16 - We want to wish everyone a Happy Thanksgiving. If you are traveling be safe. If you find yourself in the woods or water over the long Holiday weekend, keep it safe. And if you can, take a kid. They are the future of the sport we all love.
We would also like to thank everyone, past and present who has hunted with us and continues to talk about us to others. A large part of our clients are repeat clients and those that are referred to us by past clients and we appreciate that. The end of 2016 is approaching fast and it won't be long we'll be closing the chapter on our 2016 seasons. For those of you who hunted with us in 2016 you have the option to retain your hunt dates or perhaps move if other dates of interest are available. We normally give everyone until mid to late December to let us know if they want to return or not. If so, drop us an email or call and we'll get you penciled in along with arranging when your deposits should be sent.
11.22.16 - The last 2 morning have seen good frosts. Buck activity has been pretty good with some rutting activity in the mix early and winding down by mid morning. The afternoons have been slow.. The East wind isn't good, but it's November and you always hope the influence of the rut over-shadows any negative condition. The final 6 days of season will see temps at night around 30 and day time highs in the 50's with some overcast skies. We'll see some rain tomorrow with it moving out on Thursday. We've seen a lot of good bucks make it through the first 2 weekends. If someone has interest in hunting the last 3 days of the rifle season and we can talk about expectations.
Next up we have the Waterfowl opener on Thanksgiving. The first segment runs for a few days, goes out, then reopens in December. Followed by that will be our 2nd Fall Turkey shotgun season, then we'll move into our Late Muzzleloader season. With no one hunting the last week of rifle, our properties see no deer hunting pressure from 11/21 through 12/ 9 to give the deer time to settle down and get back into some regular patterns. Next week we'll begin putting the corn to the deer again, moving cameras and begin watching deer for our Late Muzzleloader hunts and getting blinds and stands setup.
We'll be getting the November cam pics updated behind the button above, along with kill pics posted up this week as well.
11.21.16 - We've hunted the past 9 days of the rifle season with 7 remaining, which we do not hunt.
Our first group went 7 of 8 on opportunity. Killing 5, missing 2 and also losing 2 bucks. Our second group had a cancellation and went 5 of 7 on opportunity. Killing 4, while missing 1. A little down on success this year, but had the misses connected and the two shot been better hits we'd been right there at 85-90% success for those hunting.
We normally do not hunt beyond the second weekend for a few reasons, one being the rut is usually winding down and hunting isn't what it can be. Two, hunting pressure can impact activity. If we take more hunts into day 3-4-5, there is increased pressure regardless of how many farms we move around to or stands we hunt. Three, some years the moon isn't favorable and last but not least, it's hard for many to get away the weekend after Thanksgiving. We have in the past scheduled and booked 2-4 hunters for the last 3 days with great results, but also seen some hunts be slow with little to no activity out of the better bucks.
The rut so far has been hit and miss, with mostly miss. Warm days and bright nights maybe being the two biggest factors. Although they both caused some frustrations by hunters and our staff alike, everyone continued to hunt grinding out hours on stand to be successful. Those that were able to stay the course and put time in the tree and weather the colder morning temperatures in the 20's with some stiff winds did place their tags on bucks, and several good bucks at that. Some of the guys that couldn't make an all day sit or just didn't prefer to hunt that way were not successful. We did have a couple guys that put in the time that seen good bucks but never pulled the trigger as well.
What to expect during your hunt ---> HOW OUR HUNTS TAKE PLACE.
11.11.16 - The last 2 days of archery have been a bit slow. A few bucks have been seen but not real rut activity to speak of. This is only reflective of one property though. Which from one day to the next a place can be on fire and the next cold as all get out.
The bang sticks come out tomorrow morning as the long awaited rifle opener for many arrives. With temps into the 30's the next couple of nights we expect activity to turn around. With more people in the woods, guns going off and the temps deer should be on their feet moving. Check back next week for an update on Opening weekend and continued updates to the trail cam section and November bucks button as we get most of our cams checked.
11.10.16 - Our latest archery hunt wrapped up with 100% opportunity and 50% success, having two hunters tag bucks, while a doe was also killed, along with a buck that went unrecovered, there was two misses and one buck that escaped getting an arrow at 12 yards.. Pretty eventful 4 days even with the activity being cyclic and temperatures not being ideal for this time of year. We have a couple archers still in trees as we close in on the rifle opener on Saturday. Today is mid 60's with blue bird skies, but it follows a morning where we seen a light frost which we hope to see more of in the coming days.
We're working on getting the cam section up to date and images viewable on the above button/link.
What to expect during your hunt ---> HOW OUR HUNTS TAKE PLACE.
11.4.2016 - Despite the mild finish to October were we seen mid 80's several days we did put 4 bucks on the ground over a few days. There wasn't much rut activity to speak about, mostly bucks coming into acorns to feed or traveling to other food sources where does were present. Three of the four bucks were shot on afternoon hunts between 5 and 5:30 when temps were in the 70's. Our next hunt is under way and has produced a couple of shooter bucks in bow range that made it out without an arrow released. One at less than 15 yards. Signs of the rut are heating up as temps begin to fall as several bucks were chasing throughout the morning.
As has been the case lately, we have many trail cams to get updated and we'll start the November cam pic button here in the Front Porch early next week.
10.28.16 - Up and down temps pretty much sums up the buck activity recently, up and down. The cooler mornings have seen bucks on their feet, while mid 60's not so much. Deer activity in general has been decent, but at this point in October we're not seeing the level of rut activity we usually do which can be mostly attributed to the unseasonably warm temperatures. We did have a couple shooter class bucks seen and in range this morning which is always nice. With 80's during the day it's not likely we'll see all-day movment any time soon. Recent winds have put more acorns on the ground which more and more deer are keying on. Beans continue to get cut with most being gone around our farms.
If you are in the market for a great sounding, and good looking, custom turkey call give Dave Hawksford consideration. You can find him online at http://www.morningsunturkeycalls.com/.
We are not a big fan of texting while on stand, but this was sent from one of our hunters during one of our early November hunts.
"This guy is laying 15 yards in front of me as I type this! (Half rack young 8 point buck - 5 point now) Also have a beautiful 110 class 8 point and a hot doe laying 30 yards to my right right now! lol. All 3 have been here for an hour. I passed on a 20 yard broadside shot on the bigger buck. Trying to be patient the first morning. 😊Just 2 more points and I would have taken that shot. Watched the big buck make a scrape, rub trees and snort-wheeze. How cool is that!!! I also had a 4 point at 40 yards to my left at 6:15 this morning. Fun stuff Bill."
---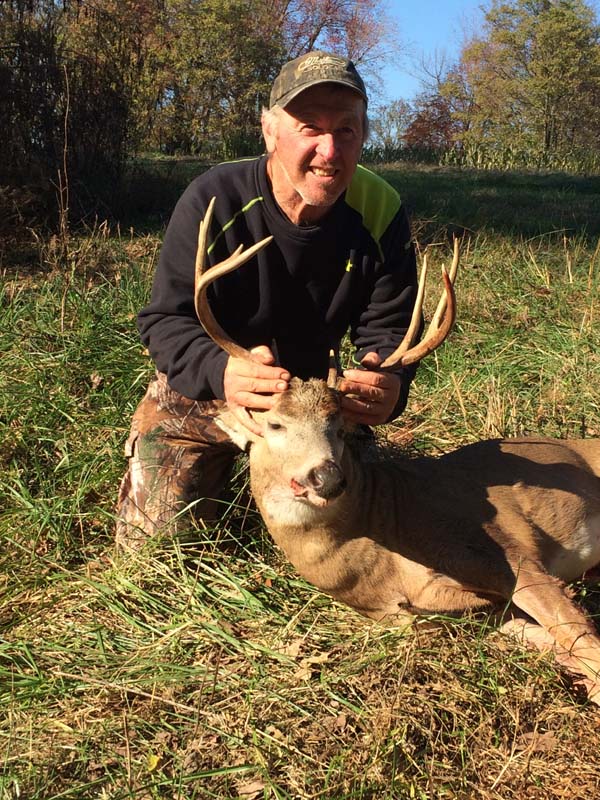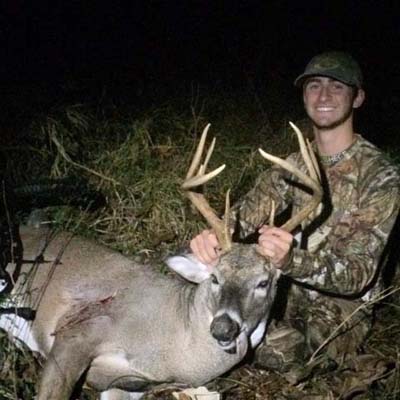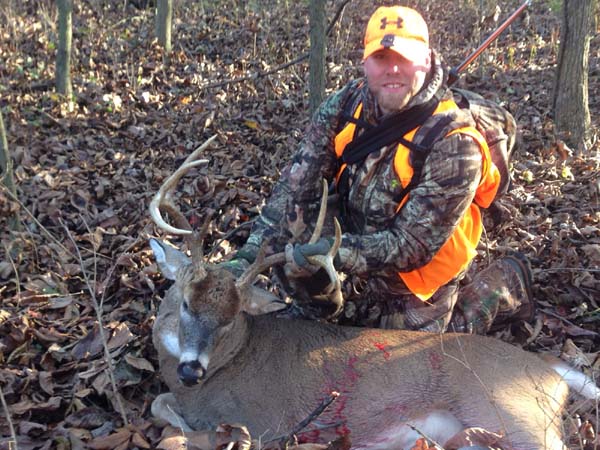 ---
We run cams 365 days per year.
---
If you are looking for help to hunt or fish in Kentucky drop us a line and see what we can put together for you. Good Hunting! wkohunts@gmail.com