Welcome to the Front Porch. Here you will find talk about what is going on with WKO and any success we've had. We use only recent photos and references from our hunts. This gives our clients an up-to-date, honest report. Check back daily, because like the seasons it will change.
---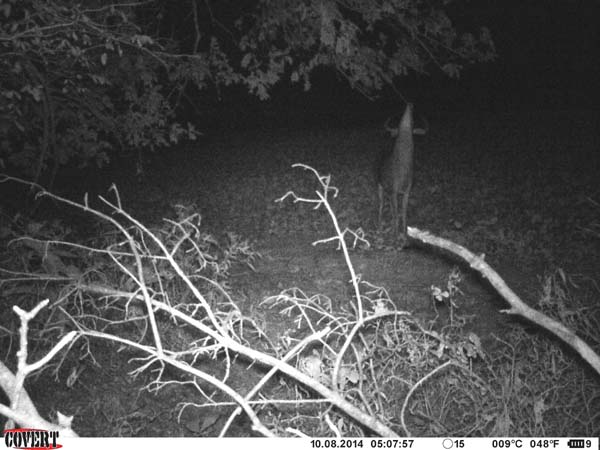 ---
TODAY's News from the Porch:
Update: 10.22.14 - Temps dropped into the 30's for the first time since the 4th and we are tap for another night into the 30's and possible frost. Definitely a sign of things to come with archery hunts just around the corner and our rifle season opening in 17 short days. Bigger buck movement is still mostly nocturnal, but we're beginning to see some better bucks on their feet earlier in the evenings and if the scrape action is any indication things are starting to ramp up.
For those of you already hitting us up about 2015. We are evaluating the calendar now along with moon phases and will have a calendar worked out by first of next week and our 2015 hunt dates posted up. We've already booked a number of 2015 hunts to start with and many who have hunted and already left this fall are back on the books for 2015.
A couple hunts I want to mention. We have an opening for archery beginning on first weekend of November. We also have some openings during the December Muzzleloader for anyone interested. If we don't see those dates book by Thanksgiving we will be converting them into waterfowl dates. We will not make any exceptions once we've done that.
10.20.14 - The 2 day Muzzleloader hunt wrapped up with one 8pt hitting the ground and several smaller 1.5-2.5 year olds walking. All does were given a free pass since no one hunting had any interest in shooting does. The wind got up on Saturday pushing 20mph and most all movement in the afternoon was late. On Sunday activity spanned into mid morning with activity falling off by around 10. Afternoon activity was mostly late with some doe movment around 4:30. A lot of deer was seen piling into cut corn fields at dusk and right after dark. There was a hint of chasing/harrassing does by a young buck or two around a couple of stands which isn't out of the ordinary for this time of year. We are probably 5-7 days away from bucks beginning to really start scraping a lot and cruising. Day time activity will begin to increase more and more once the calendar rolls over another 7-10 days. We see it every year on the cams. By about the 23-24th, bucks begin cruising. New bucks start showing up, scrapes get visited daily and by the end of October heading into November the chasing begins.
Up next is fall shotgun for turkey and some pre-rut archery hunting. Give us a call or drop us a line for what could be some good action.
Kentucky Archery Hunts

October 24-25-26-27 Archery (2 openings)

October 31st - November 4th (1 opening)

3 Days: $750

4 Days: $1000

10.16.14 - A couple of you have brought this to my attention over the last week or so. We did have the license fees wrong for the Non-Resident deer permit. The increase imposed this year will bring your total cost of Non-resident hunting license and deer permit to $260. You will pay $140 for a license and $120 for a Non-resident deer permit. Non-resident fall turkey permits are $75. Also to further clarify some questions we've had, your deer permit is good for 1 buck and 1 doe. Or 2 does. Kentucky is a 1 buck state. You cannot kill more than 1 buck on your state deer permit.
Anyone looking for a Archery hunt we think the dates below are going to provide some pretty good hunting based on some of the sign and buck activity we are beginning to see. With the full moon being bright in early November (8th) we think its going to push some of the rut activity a bit earlier than normal.
For a look at what to expect during your hunt ---> HOW OUR HUNTS TAKE PLACE.
10.15.14 - The Youth hunts from this past weekend were up and down. We had a great group of kids here but they all seemed to be looking and holding out for a big buck. With rain and wind ruling much of the day on Saturday movement was spotting with only a few does and smaller buck opportunities being passed on. Sunday morning was dry, but similar deer movement seen and most of it came very early in the hunt. Sunday afternoon seen rain move back into the area in waves. It would rain for 5-10 minutes and stop, followed by it starting up again. As prime time closed in we seen some of the heavier rain of the afternoon and seemingly likely washed away chances at a nice buck being shot. All in all everyone seemed to enjoy their hunt and time afield, mother nature simply didn't play all that nice for us. And we can certainly appreciate the boys that were here hunting holding out for a better buck. We know for at least 2 of the 4, Sunday evening became if it was brown it was down.
Up ahead is Kentucky's 2 day early October Muzzleloader hunt. This hunt is widely dependant upon what mother nature deals us. In the past we've seen 80 degree days, 40 mph winds, hurricane type rain fall, while to the other extreme we have seen deer hunting weather with temps at or around freezing, little to no wind, frost and good buck movement, including some chasing. From year to year you just really do not know what this hunt is going to provide. It's a time when some good bucks can be killed, while it can also be a hunt with little to no buck action. So far the weekend forecast has temps with lows in the 40's, maybe into the 30's on Saturday night and highs in the 60's. Far better than the 50's and 70's we've seen the last 3 days.
We seen some good buck activity last night during a break in all the rain we've had during the last 60-75 minutes of daylight. We've also began seeing a higher number of scrapes showing up and some activity around them, both of which is promising for things to come. A few bucks are showing up dead on the roads which is always a sign that bucks are becoming more and more active as well.
10.10.14 - Youth hunters take to the woods in the morning and get the first crack at the bucks with the boom sticks. They won't have it too easy with rain in the forecast and a full moon. They'll likely see some breaks in the rain tomorrow, but the entire weekend forecast at this point has some chances of rain. Movement over the last 24-48 hours with the rain we've had already has been spotty. With a breaks here and there hopefully we'll see some bucks take to their feet and provide some action for the young hunters over the next couple days and we will see a few deer hit the ground.
If you are looking for a Kentucky deer hunt below is what we have available. Our early season waterfowl opportunities are full. For Waterfowl hunts mid-December through end of Season call or email for availability.
Predator hunts are booked following the December muzzleloader season. Bobcats may be hunted through the end of Furbearer season in February. Coyotes are hunted into March.
Kentucky Muzzleloader

December 13-21st (4 openings)

2Days: $500

3Days: $600, 4Days $750

For a look at what to expect during your hunt ---> HOW OUR HUNTS TAKE PLACE.
---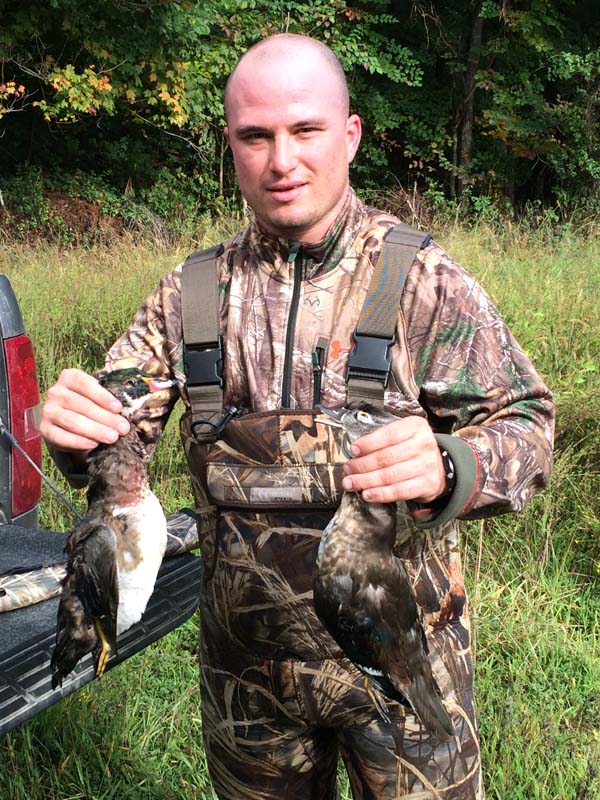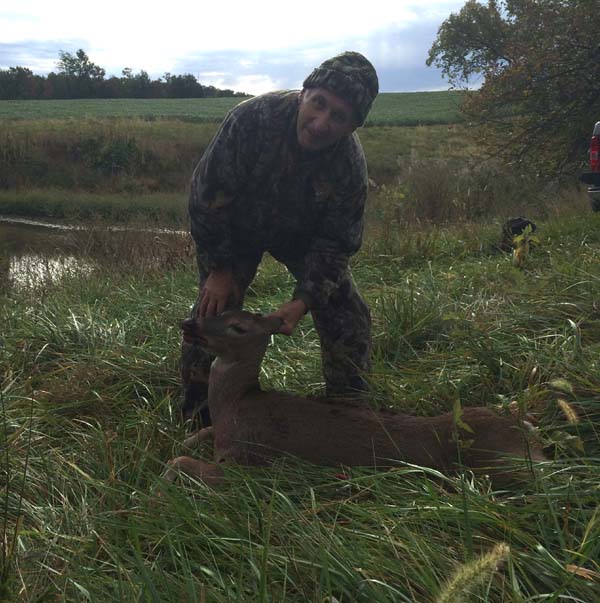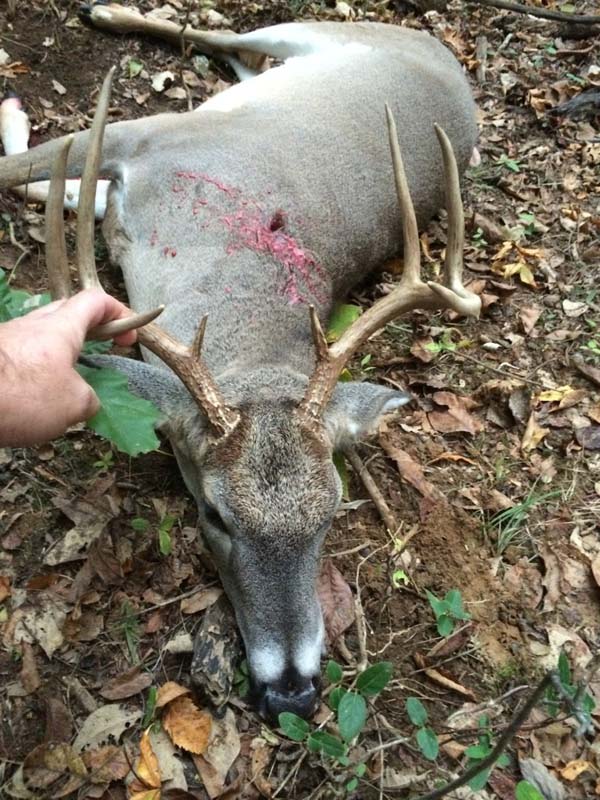 ---
We run cams 365 days per year.
---
If you are looking for help to hunt or fish in Kentucky drop us a line and see what we can put together for you. Good Hunting! wkohunts@gmail.com